Robert Dragoon
Robert Dragoon (1935- 2022)
Robert Dragoon, 86, of Hanover, Maine, and Melbourne Beach, Florida, died on June 24 after a brief illness. Bob loved his family more than anything and lived a life filled with countless well-designed and ingeniously executed projects.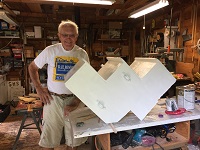 Born to Stella (Mazeikis) and Benedict Dragoon on August 27, 1935, in Peru, Maine, Bob moved with his family to East Rumford when his parents purchased the Pure Ice Company, which they turned into a thriving business. He grew up helping to harvest, store, and deliver the large chunks of pond ice that cooled Rumford's ice chests before the advent of refrigeration.
After graduating from Stephens High School, Bob became the first person in his family to go to college. He studied Engineering Physics—and was the mastermind of multiple pranks—at the University of Maine at Orono, where he also made many lifelong friends through his fraternity, Alpha Tau Omega. Frequent trips to Skidmore College to visit Mary Anne Dyer proved well worth it as the two married shortly after her graduation in 1956. When he graduated in 1957, they moved to Rochester, NY, where he began his career at Eastman Kodak and they soon started their family.
At Kodak, he developed a reputation as a strategic thinker and played a key role on a classified project for the federal government. He went on to work in research and strategic planning in the pulp and paper industry at Oxford Paper Company in Rumford, at Mead Corporation in Chillicothe and Dayton, Ohio, and at Rexam Graphics in South Hadley, Massachusetts, making more lifelong friends at each stop along the way. At Oxford, he co-invented vacuum metallized paper, which the company patented. Throughout his career, he was known for his creativity in solving difficult problems, his work ethic, and for his thoughtful advice to all he mentored. The one-time ice delivery boy retired as head of strategic planning for a high-tech paper company.
But his career was only part of the story. Bob was a born engineer and never met a problem he wasn't itching to tackle. He designed and built desks, cupboards, closets, docks, an epic tree house, baby gates and swings for his grandkids, a towable surfboard ridden by the family dog, and a wheelchair winch contraption that let him crank his mother-in-law down from the porch of her second-floor apartment to whatever adventure awaited on the ground level.
It's no surprise that he loved tools of all sorts and trips to the hardware store; his workshop was filled with old parts, hardware, and lengths of wood that usually found their way into his inventions. A tractor factored into his projects whenever possible and he found excuses to ride his Kubota well past his 86th birthday. Chainsaws ranked high on his list of favorite tools and he viewed felling trees as an art form. As Mary Anne often said, if Bob were a barber, everyone would be bald.
His favorite place on earth was Camp on Howard Pond in Hanover, Maine, a once-dilapidated building that he single-handedly restored into a vacation home that would serve as base camp for three generations of Dragoons. It became a magnet for family and friends alike, the site of countless parties, potlucks, and gatherings of all sorts. But best of all, it offered an endless supply of projects, including the annual challenge of leveling Camp after the winter frosts, constructing walkways out of flat stones he dug from the woods, and installing French drains in the soggy front lawn.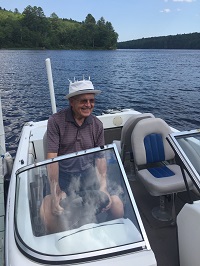 After retiring in 1996, Bob and Mary Anne spent summers in Maine and winters in Florida. He was active in both communities, volunteering, serving on boards, and putting his engineering and critical thinking skills to good use. He enjoyed golf, puzzles, crosswords, books, entertaining, magnificent meals, reading the newspaper front to back, telling a good story, offering advice, discussing issues of the day, and of course, turning problems into projects.
Bob considered his family his greatest achievement. He is survived by his wife and soulmate of 66 years, Mary Anne; children Michael, Suzy (George) Brewer, and Alice (Jim) Leightheiser; grandchildren Max (Ashley) Dragoon, Chase (Courtney) Dragoon, Grace Leightheiser, and Charlie Leightheiser; great-grandchildren Dylan Dragoon and Clementine Dragoon; and sister Ginny Todd and her family. His sister Barbara Gossett predeceased him.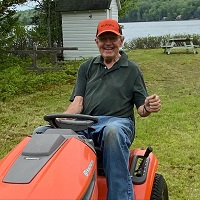 A memorial service will be held in Maine this summer. Gifts in his memory to support Engineering Physics students may be sent to the University of Maine Foundation, Two Alumni Place, Orono, ME 04469 or given online at our.umaine.edu/Dragoon

5 entries.
Mary Anne: My sincere condolences. Bob was a great guy and a mentor to me. I have fond memories of working for him at GTI/Rexam. Regards Mark Carroll
So sorry to hear about Bob You will be in my thoughts and prayers that you can find comfort in the memories of the long and full life you shared-Lee Ann
Bob was a wonderful person and will be sadly missed by Astra and I
Bob was a great friend and business associate. Blessings to his family
Sad to hear of Bobs passing. Smart and very talented man. Life well lived!