Robert R. Hvisdas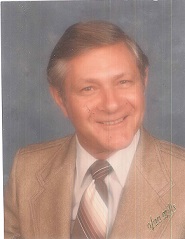 Born February 12, 1931 in Trenton, New Jersey.
Departed on January 8, 2021 in West Melbourne, Florida
Robert "Uncle Bob" R. Hvisdas, 89, of West Melbourne passed on January 8, 2021 at his home.
He was born on February 12, 1931 in Trenton, New Jersey to Anthony and Sophia Welde Hvisdas.
He is survived by his wife of 52 years Patricia of West Melbourne; sons Robert (Amee) Hvisdas, Jr. of California and James (Joanne) Hvisdas of Port Orange, Florida; daughter Sharon (Scott) Bissell of San Diego, CA; grandchildren Sean, Christopher, Ryan and Nikolai; two great-grandchildren Juliana and Sean Patrick and a brother Anthony (Diana) Visdas of Payson, Arizona.
He was a Life Member of The American Legion Post #163, a Life Member of VFW Post #4206, and had served honorably in the US Army during the Korean War.
Robert worked at Harris for over 20 years, Florida Air Academy for 5 1/2 years, Health First for 2 years and volunteered at The Viera VA Clinic for 5 years.
Services will be private for the family.
Anyone wishing to make an expression of sympathy is asked to make a donation in his memory may be made to The Children's Hunger Project of Brevard County, 1855 W. King St., Cocoa, FL 32926
10 entries.
Pat and family, So sorry to hear of Bob's passing. He was a wonderful friend who always had a smile for everyone. His sense of humor was always a joy. You have my deepest sympathy.
Sorry to learn of Bob's passing. Fond memories of you and family. Love, Mabel
Dear Pat and family, Pam and I are very sorry for your loss. Bob was a great help to me during my time in Nigeria. Prayers with you and the family. Mike and Pam Cheatwood
Bob was one of my all time favorite coworkers. I am truly saddened to hear of his passing. Rest In Peace old friend.
Dear Pat & Family, I'm so sorry for your loss. He will remain in your hearts & memories always. Love, Mary
I will remember Bob Hvisdas as a friend, relative, and advisor. I had many meaningful conversations with him. He will be missed and I feel lucky to have known him.
We will miss you. You have enriched our life with your humor, decency, and love for us all. Judy
Words seem so inadequate. Sending love and great condolences . Bob will be missed. I feel lucky in knowing him. Love, Judy
Pat and family please accept our sympathy and know that you are all in our prayers. Richard and I have been truly blessed to have you and Bob in our life. I know Bob is in God's care now and smiling down on all of us. 💕🙏
Uncle Bob you were one of the kindness men I knew. Whenever I saw you over the years you always greeted me with a smile and a hug. I will always remember that. Rest In Peace ❤️