Robert Stephens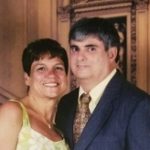 Born November 26, 1949 in New Bern, North Carolina.
Departed on November 25, 2020 in Melbourne, Florida
Bob was born November 26, 1949 to Simeon Francis Stephens and Gustie Lee Jones in New Bern North Carolina. Bob passed away peacefully surrounded by his loved ones on November 25th 2020 at the age of 70. He is survived by his loving wife Kelly Stephens, daughters Lisa Dedrick son and in law Mark Dedrick, daughter Ashley Whitten Tipton, son Andrew Whitten, son Bobby Stephens and daughter in law Donna Stephens, grandchildren Tyler and Ella, daughter Stephanie Jackson, Husband Brandon, grandchildren Noah and Jonah. Bob was a member of the Church of Jesus Christ of Latter-day Saints and was very active in missionary work. Bob had a gift and a love of the Scriptures and loved to talk about Gospel subjects. Bob had an awesome sense of humor and he enjoyed telling jokes and hearing jokes. His dry sense of humor was fun and enjoyed by many. He will be missed by all that knew him.
13 entries.
Thanks for the laughs, the love and the smiles you have shared with me. Until we meet again.
My heart goes to all. Bob will be missed and was loved by all of us in his Ward and beyond.
Bob, was a very funny man , always telling jokes and making people laugh. His wife Kellie and I have been best friends since 1990 and she will truly miss Bob for they had a great love for one another. He will be truly missed and in no more pain. Rest In Peace my dear friend ❤️🙏🏻
Your kind, good heart will be greatly missed.
We all will miss you, Bob. The world is a sadder place without you.
Kelly, our thoughts and prayers go out to you and your family. Bob will be so missed, especially his insights and discussions that he would spurn during Gospel Doctrine Sunday School classes. We wish you comfort and peace during this time of loss.
We loved Bob's wit and humor. But he also had that serious, faith and gospel-centered side to go along with it. I (Bill) will miss our talks, laughs, discussions, and poking fun. We lost a good one here on earth but the heavens gained one.
I first met Bob at church and immediately was impressed by his warmth and good nature and strength of character. He always greeted me with a smile and I appreciated his quiet nature. My love and prayer to his family in their loss. May the Comforter wrap his warmth and peace around you in the coming days and months. And know that our Heavenly Father will provide the strength, understanding, and blessings needed in your journey ahead. 🙏
That's beautiful, Kelly. I love you, and we will all miss Bob and his fantastic sense of humor. May God bless you and the entire family with strength and peace during this time of sorrow.
Bob was a interesting, intelligent and funny guy. My favorite thing about Bob however was the kindness he showed to everyone he met. I will miss him
Bob was a wonderful man, intelligent, interesting and funny. Very kind and will be missed