Ronald Eugene Totty "Ron"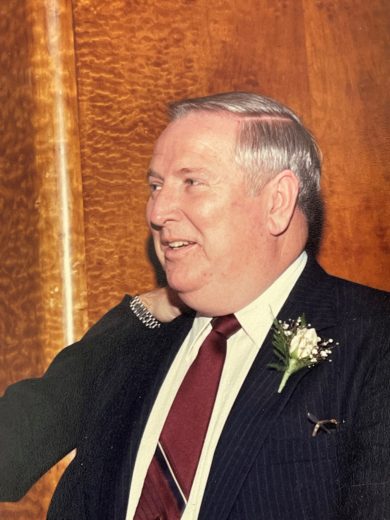 Born 1934 in McCrory, Arkansas
Departed on February 14, 2022 in Melbourne, Florida
Ronald Eugene Totty "Ron" passed away on February 14, 2022 at home overlooking the beautiful Indian River in Melbourne Florida.
Born in McCrory, Arkansas, he was the only child of Roland and Opal Totty.  Ron was gifted with a beautiful singing voice and loved music, especially gospel, country and classical piano. He sang in a boys' choir at a young age, a trio in high school and often sang with his mother at church events.
While serving in the Army Medical Corps at Ft Knox Kentucky, he met the love of his life Shirley on a blind date.  Together they shared 65 wonderful years.
Married with two young boys, Ron graduated from the University of Arkansas.  In addition to receiving his Masters degree, Ron was the recipient of one of 20 Ford Fellowships given nationwide and enrolled in the Engineering Doctoral Program at Purdue University. He later became an Associate Professor at Purdue as teaching was truly his lifes passion.
After graduating from Purdue in 1965, Radiation Inc., which later became Harris Corporation, invited Ron to explore an employment opportunity.  The following year Ron and his family moved to the Space Coast.
After 25 years at Harris leading engineering efforts and the Advanced Technology group, Ron then enjoyed 10 years at Corporate focused on the Commercial Communication Sector with operations across the world.  Ron was then charged to be the technical lead expanding the Harris footprint globally. Ron and his wife Shirley lived in India, Russia, and Belgium to help open the markets for Harris.
In addition to his wife Shirley, Ron is survived by his son Steve (Lorraine), grandchildren Alicia Totty-Moore (Roger) James Totty, Kristin Totty, Nicole Totty, his son Bruce, grandchildren Brent (Jessi) Totty, Shelby Totty, Carson Totty and 4 great-grandchildren, Johnny Randall, Joey Randall, Connor Totty, and Dillon Totty.

Ron will be greatly missed by all.
5 entries.
So sorry to hear of Ron's passing. He was a friend, educator, and mentor during my 4-years at Harris Communication Sector. I'll always cherish exploring Moscow with Ron over a weekend during a business trip there. He was able to decipher the old Moscow subway system, and we were astounded at the array of discarded military gear available at an outdoor flea-market we found. Dr. Totty was the first in the late 1980's to explain these things called the "internet" and "email" that he was using to correspond with scientists and engineers around the world. Great memories of a great man.
Ron was a treasured mentor and friend, unfailingly generous with his knowledge, encouragement, and wise counsel. All of us who were fortunate to work for him and with him will always remember his technical brilliance, his personal warmth, and his keen sense of humor. Shirley, Steve, and Bruce, we share your loss and we cherish the memories of the time we had with him. He was one of a kind.
I am so very sorry. May your happy memories of Ron bring you peace and comfort. I'm sending love to Shirley and Steve and Bruce (and all of Ron's family and friends). May he rest in peace. Love, Catie Geist
So very sorry to hear about your passing, Ronald Gene. Sending lots of love, hugs and prayers to your family. God bless always, your cousin Gwen
My mother and father had such great affection for Ronald. Mom was his cousin Frances Barber McCommons. Her mother Sallie Totty Barber and Roland Totty were brother and sister. I loved Uncle Roland and Aunt Opal. They were always so proud of Ronald for the beauty of his voice, his good mind, and loving heart. I like to think of them all at their heavenly reunion breaking into song. God bless his family and friends.