Ronald F. Bussendorf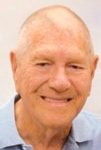 Born in Buffalo, New York on March 12, 1934
Departed in Rockledge, Florida, on May 12, 2019
Ronald F. Bussendorf, 85, born in Buffalo, New York passed away on Sunday, May 12, 2019. He was a retired Quality Controller with Harris Corporation and a member of the First Baptist Church of Melbourne. Ronald is survived by his wife, Joyce L. Bussendorf; daughters, Deborah King, Catherine Frahm and Julie Thompson; son, Jason Bussendorf; 9 grandchildren and 8 great-grandchildren. He was predeceased by his wife, Joyce C. Bussendorf, grandson, Kevin King and sister Kaye Miller. A memorial service will be held on Saturday, May 18, 2019 at 11:00 am with a visitation from 10 until 11 am at Brownlie-Maxwell Chapel. In lieu of flowers, donations may be made to Hospice of Health First or your local Meals on Wheels.
15 entries.
I am sorry for your loss. Being sick, suffering, growing old and dying were never part of the plans that God had for us. We were to live happy, healthy, lives forever. His purpose for mankind has not changed. At Revelation 21:4 we learn that soon everything that causes us pain and suffering, including death will be gone forever! John 5:28, 29 also holds out the hope of seeing those we have lost in death, once again, here on earth. May you draw comfort in knowing this.
I worked with Ron at Harris. He had a very kind soul. Always remember the good times and the laughs, and that now he is pain free! Blessings & Comfort to all who mourn his passing.
I am so sorry I let so much time go by without seeing you. I always felt like I was on solid ground when around you. I loved how down to earth life was for you and how much you enjoyed it. I'll look you up when I get to heaven, but you will be missed here on earth.
We are so sorry for your loss! Our prayers are with you and pray you find peace in Ron's passing. Much love, Bobby and Mary
Will always remember you Ron and cherish our visit last summer❤️
Thank you Dad, for all you have given us. We couldn't have done it without you. We will think about you every day. Love forever. Julie and Shawn
Met him once or twice over the years .So very sorry for the families loss..
I met Ron a number of years ago, from FBC Melbourne. I remember when Ron and Joyce married. Ron was a very sweet man, and I was so blessed by his Christian life. He certainly will be missed! We will meet again, Brother Ron. Love, Marge
Dear Joyce, I am so sorry for your loss. May the God of all comfort, comfort you and your family during this time. Love, Crystal (FBCM Joysong)
I will always cherish our visit last summer. RIP Mr Bussendorf. ❤️❤️❤️
I only met you on a couple of family occasions And you are such a delight! Rest in peace Charlie and Kelli
Thinking of you guys! We love you!
We love you and miss you already.
We love and will miss you.