Ronald Harden McAloney, Jr.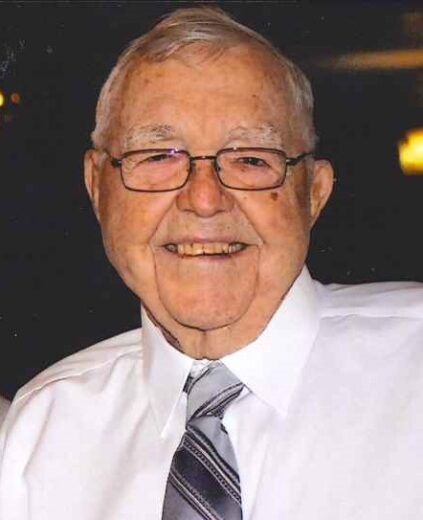 Born on July 5, 1935 in Grant, Florida
Departed December 16, 2022 in Melbourne, Florida
Ronald Harden McAloney, Jr., better known as "Mac" was born in Grant, Florida on July 5, 1935 to Ronald and Dorothy McAloney. He worked at the family dairy farm where he met and married his forever wife Lucy; joined the Marine Corps in 1954 and was honorably discharged after 6 years.
Mac and Lucy had three children Ronald "Ronne" McAloney III, Grant McAloney (deceased) and Deborah Zamonis. He moved back to Grant and eventually opened his own business, R & M Body Shop in the early 60's and remained open for 30 years being well known for his perfection in his work. He quickly became one of the top auto body shops in Brevard County. Mac had eight grandchildren, Sara Lopez (Lance), Heather Dicrocco (Victor), Jessica Casillas (Israel), Emily Meyer (Jesse), Ronald McAloney IV (Destinee), Rachael Oxford (Billy), Renee Boyette (Kolby), Steven McAloney (Serena) and 22 great grandchildren. He was a devoted husband to his wife and family, was lovingly known as "Pop" to the grandchildren and "Old Pop" to his great grandchildren.
Mac was an avid storyteller, everyone enjoyed hearing his stories of past days as he mixed truth with embellishment and turned them into tall tales, mesmerizing you for hours with tales of old times and of old Florida that you can only read about in books. Mac was a self-made man, with minimal education and with the help of Lucy, he transformed his talents into a successful life while supporting his family.
Mac had several hobbies over the years. Drag racing in his early years, building airboats from the bottom up, primitive bow making out of Osage orange tree and creating bow string and arrows using feathers he had collected for the fletching of the arrow. He killed many deer with his creations during bow season. Hunting was always an exciting and busy time for Mac, whether it be fixing his tree stand, sighting in his rifle, or scoping out the woods deciding the best place to hunt. In later years he became an avid gardener and eventually supplied a hostel for all the local deer and birds. Spending most of his life outdoors, to say he was earthy would be an understatement. Mac was meticulous in everything he did no matter how simple, and for this reason, people came to him for his designs and to hand make a part to fix something, that was unfixable to others.
A Services will be held at Brownlie-Maxwell Funeral Home on Thursday, December 29, 2022 at 1:00 pm with graveside services immediately following at the Grant Cemetery in Grant. A gathering of family and friends will be held at the Zamonis house in Grant.
We are all here today to remember Mac, who lived a long and healthy life, filled with a lot of love and wonderful memories that will live on through his family and all of those who knew him. Some would say our purpose in life is to leave an imprint on others, and if so, he definitely did his job.
3 entries.
He will be sorely missed. I loved talking to him. See you on the other side Mac. Bonnie Allan
So sorry for your passing, Mr Mac. Hope to see you again in Heaven❤️
The world lost a great man on that day .