Rose Helen Trudel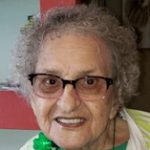 Born in Frenchville, Pennsylvania May 3, 1924
Departed in Palm Bay, Florida on November 8, 2019
Rose Helen Trudel, 95 a homemaker died on Friday, November 8, 2019. Rose was born in Frenchville, PA and moved shortly there after to Grassflat, PA. In 2003 they relocated to Palm Bay, FL from Long Island, NY to retire and enjoy the sunshine. She loved being with family and friends, going to church, her cats and dogs and living in Palm Bay. Rose is survived by her 8 children Denise Trudel (Lew), Richard Trudel (Lynn), Diane Nolan (Bob), Susan Grancelli (Al) Debbie Trudel (George) Jean Trudel, Christine Trudel (Pat) and Carol Trudel, fourteen grandchildren and 13 great grandchildren.
Anyone wishing to make an expression of sympathy is asked to consider making a donation to Health First Hospice Care of Brevard.
Calling hours will be held at Brownlie Maxwell Funeral Chapel on November 11, 2019 from 3:00 PM to 5:00 PM
Funeral Services will be held at St. Joseph's Catholic Church on Babcock Street on November 12, 2019 at 1PM
12 entries.
Our condolences to the Trudel family. The many memories you have will guide you through this difficult time and beyond. Love and sympathy, Ann & Len
WE are so sorry for your loss . She was so lovely may she rest in peace.
MY BEAUTIFUL CARING LOVING GRAND MOTHER PASSED AWAY ON NOV 8 I WILL MISS HER SO DEEPLY SHE RAISED ME WHEN MY MOM WORKED WE HAD SUCH A GREAT TIME TOGETHER A PICE OF MY HEART WENT WITH HER BUT I KNOW SHE OUT OF PAIN AND WITH MY GRANDPA AND MY BABY GIRL VICTORIA ROSE I LOVE YOU GRANDMA FOREVER MEET YOU IN HEAVEN FOREVER LOVED YOUR 1 GRAND DAUGHTER RENEE MORAN GREAT GRANDSON JIMMY AND JIM MORAN YOUR GONE BUT NERVER FORGOTTON RIP SAY HI TO GRANDPA AND MY BABY GIRL VICTORIA ROSE
My sincere condoled to all of you. May she rest in peace & fly with the angels!! She was a warm & wonderful woman!! I'll always remember her! We were always on her porch hanging out & sharing conversations!! We had such a great childhood & she was a big part of mine!! I loved her dearly even though we lost touch over the years! I'm so sorry for your loss. You are all in my thoughts & prayers!! May you find comfort in all of your wonderful memories! I have tons of them!! Love, Janet
Our condolences to Rose Trudel's family.
Rest in peace our beautiful mother. You are so loved by everyone and will truly be missed. I have so many wonderful memories of the times we spent together. They are priceless and I'm so blessed to have had such a special person for a mother. We love you very much, Christine, Pat and all the critters.
Blessings and prayers for the family. May God be with you at this difficult time.
I am so fortunate to have been able to know beautiful Rose these last few years. She is such a sweet soul, funny and inspirational. She is much loved by her family. A truly great lady. She will always be remembered.
Do not stand at my grave and weep. I am not there, I do not sleep. I am a thousand winds that blow. I am the diamond glints on the snow. I am the sunlight on the ripened grain. I am the gentle Autumn's rain. When you awaken in the morning hush, I am the swift uplifting rush of quiet birds in circled flight. I am the soft stars that shine at night. Do not stand at my grave and cry: I am not there, I did not die.
I'm so sorry to hear of the loss of your mom!! I have so many fond memories of her!! She was such a part of mine & my families lives for so many years!! I'll always remember hanging out on your front porch with her!! She was a wonderful, kindhearted and warm woman!! I loved her so!! Always there for us!! I know she will be dearly missed by all of you. You are all in my thoughts & prayers!!! Sending hugs & love to you all!!! May her memories help you through this difficult time!!
The passing of our dear Aunt Rose is a very sad day for us. I have many happy memories of Aunt Rose, Uncle Jean and their wonderful children, our cousins. As she is welcomed into God's kingdom, there will be such joy, as she is reunited with Uncle Jean, her parents, and her siblings. Love and sympathy to her wonderful family.