Rosemary Reed Cherry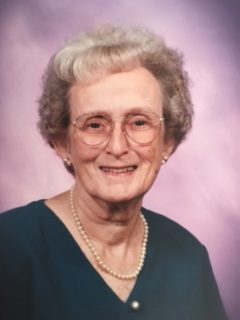 Born on December 6, 1924 in Toledo, Ohio
Departed on September 28, 2021 in Melbourne, Florida
Rosemary Reed Cherry was born in Toledo, Ohio on December 6, 1924. She was raised in Toledo and Deland, Florida. While in high school in Toledo, she did office work for a radio station where she heard the news of Pearl Harbor. After graduation, she worked in the office of a ball bearing factory which received the coveted Army-Navy "E" Award for Excellence in Production of war materials. After the war, while working for the glass producer Owens Illinois, she met William Cherry and was eventually swept up into the wave of post-war marriages of young women and returned GIs.
The family moved to first to Miami, Florida then joined the rising tide of the growing space program in Brevard County, moving to Melbourne in 1961. They raised two children. Rosemary was active in her church and in the Band Parents' Associations of Southwest Junior High and Melbourne High Schools.
Within the family, she was known as a skilled seamstress who could be counted for anything from a sports jacket to a wedding dress to a pillow cover.
She is preceded in death by her husband William Cherry, sister Lola Jean Reed and brother the Rev. Allan Reed. She is survived by daughter Anna Cherry (and husband Stephen Sutten), son David Cherry (and wife Rebecca), grandson Andrew Cherry (and wife Kathy Moriarty) and great grandsons Alden and Eben.
In lieu of flowers, donations to the Holy Trinity Episcopal Church Foundation of Holy Trinity Episcopal Church, Melbourne Florida are suggested.
1 entry.
I met Rosemary at Holy Trinity and enjoyed many years with her as a member of St. Catherine's Women's Guild. She will be missed.