Rustico Dizon Madlambayan Sr.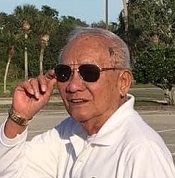 Born on February 24, 1934 in Mabalacat, Pampanga Philippines
Departed on May 2, 2021, in West Melbourne, Florida
Rustico Dizon Madlambayan Sr was 87 years old when he went home to be with Jesus on May 2, 2021 at West Melbourne, Florida.
He was born to Juan & Demetria Madlambayan on February 24, 1934 in Mabalacat, Pampanga Philippines. He was married to the love of his life, Irene Bais for 58 years.
They were blessed with 8 children who were named after his first name.
This was his plan & an answered prayer namely, R- Ruth; U- Ulemia; S-Sol; T-Tess; I- Irene; C- Concesa; O-Orson & Rustico JR
They also enjoyed the gift of caring and loving their 18 grandchildren and 5 great grandchildren.
He was a member of First UMC in Melbourne, FL under the Filipino-American Ministry for 19 years. Rustico had a servant heart and was always ready to give a helping hand to anyone who ask.
He was a very loving husband to Irene, a very supportive Tatang (father) and a very generous Ingkong (grandfather).
He was also a wonderful friend to all, as a man with few words but with a warm smile to all.
He will surely be missed by everyone as we believed he touched many lives.
We are comforted that we will see him again in heaven as we know in our hearts that he accepted Jesus as Lord & Savior and served Him so well.
A celebration of Rustico Sr's life will be held at Ruth & Jack Lyle's home at 2240 Wekiva Lane, West Melbourne, 32904 on Friday, May 7, 2021 at 6 PM.
As we have been a recipient of the BEST hospice care during Rustico's end of life journey and as a gesture of our grateful hearts, please send your memorial donations to:
VITAS Healthcare
4450 W Eau Gallie Blvd Ste 250,
Melbourne, FL 32934

12 entries.
Was saddened to hear of Rustico's passing. Our hearts and prayers are with the entire family as you grieve and adjust to life without him near. May God's comfort be abundant. May your memories of Rustico change from sorrow to peace, joy.
We are so very sorry for the loss of Rustico. We send our condolences to you and the family. Chaplain Sol you are a very caring and loving individual therefore so must your father have been. We will pray for you and your family at this time that God will bring you all peace and comfort at this time.
Rest in peace Tatang🙏 Sending my love , prayers and condolences to Ima and the rest of the family. I hope Ima will be ok. Love to you all ❤️ xxx
In Jesus name, I pray for peace and comfort to all the Madlambayan family during this difficult time. My sincere condolences, especially to my dear friend Sol, who, like his beloved father is a kind and caring man, always ready to lend a helping hand to all. May Rustico rest in peace with the Lord. Amen.
Blessings upon you and your family. My deepest condolences. My payers are with you 🙏🏽💛🙏🏽🙏🏽
So sorry for your loss. Cherish the many memories that you all have shared over the years. Laugh, rejoice and find complete knowing you will meet again at the gates of heaven. My thoughts and prayers are with each and everyone.
We are deeply saddened by the passing of Inkgong. He loved and cared for both of my boys when they were babies until they went to school. He was a huge Christian influence on both of them and for that I am forever grateful. Prayers for all of the family especially Apo.
So sorry to hear. I've had the chance to meet your dad when I visited Melbourne many years ago. He was a man of gentle words. Lifting you up in sincere love, prayers, and condolences during this time. Isang pakikipagdalamhati sa buong pamilyang Madlambayan!
May Our Dear Lord Abide you in your journey Tatang Rustico. Revelation 21:4 'He will wipe every tear from their eyes. There will be no more death' or mourning or crying or pain, for the old order of things has passed away." To Ima Irene and the whole family, so sorry for your loss! Our Condolences.... Mette family
Our deepest sympathy and prayers for Bapang Tico🙏🙏🙏
Taus pusung pamakirame. God's peace and love be with the whole family.🙏🏼 RIP Rustico Madlambayan Sr.
You will be missed Tatang ! I know you are in a better place now ! Sending my love and condolences to the Madlambayan Family ! I will see Ima when I get back to Florida ❤️❤️❤️