Ruth Finnegan

Born on December 24, 1923 in Quinwood, West Virginia
Departed on December 15, 2021 in Palm Bay, Florida
Ruth May Wood McClung Finnegan, of Melbourne, died Wednesday, December 15, just shy of her 98th birthday.
Ruth was descended from the sturdy mountain stock of Wild, Wonderful West Virginia, where she was born, Christmas Eve, 1923, the only child of Leland and Myrtle Wood.
Ruth moved to Florida in 1953 with her husband, Harold McClung, and their two children, Kathy and Ron.
Ruth spent five years as a manager of the produce department at a Kroger in West Virginia, and worked for many years as the secretary at Fountainhead Memorial Park in Palm Bay.
Ruth was a staunch Democrat, an avid reader of the Bible, and a dedicated volunteer for her church. In addition, she made porcelain dolls and crocheted large blanket-like items for her family.
While working at Fountainhead, she met and married the love of her life, Jack Finnegan. During the years of their romance, they built the cemetery and funeral home of Fountainhead side-by-side, travelled extensively, and were never apart.
Ruth lived to see her great, great grandchildren. She ate a diet rich in potato chips, cola drinks, snack crackers, and whatever else she wanted, all while retaining good health, much to the bewilderment of the doctors she outlived.
Ruth's sojourn included Prohibition, the Flapper Era, the Great Depression, World War II, the Space Race, and the Computer Age. Hers was a long life, continuing well beyond the Biblical three-score-and-ten.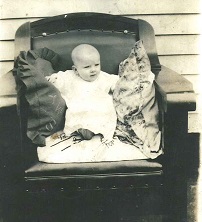 Ruth was predeceased by her husbands, Harold and Jack, neighbor and best friend Cissy Tierney, and cousin and friend Bonnie Frink.
Survivors include son and daughter-in-law, Ron and Suzanne McClung, daughter Kathy Haga, grateful "second son" Frank Tierney, two grandchildren and numerous great and great-great grandchildren. She also leaves sisters-in-law Becky Noland and Helen Campbell, nephew Wayne Campbell, and many extended family members.
Memorial services at Brownlie-Maxwell Funeral Home at a later date.

3 entries.
A lifelong democrat with a tiny crush on Ronald Regan. Epiphany took such good care of my mom in her final years, even reading the Bible to her during her lunch hour. She was heartbroken that covid kept so many of her family from visiting especially her beoved son.
What fond memories we have of Aunt Ruth. Gatherings were always such fun with all the family and her laugh was so memorable will surely miss that. Love and sympathy to all the friends and family.
Ruth's great granddaughter as well as her caretaker in the final moments of her life, mother of two Ruth's great great grandsons, Fletcher Shane Campbell and Flynn Cornelius Hennessy.