Ruth LaMae Clapper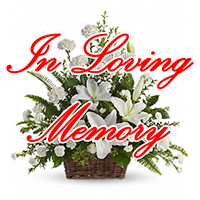 Born in Melbourne, Florida on October 5, 1924
Departed in Melbourne, Florida on December 22, 2018
Ruth LaMae Clapper, 94, was born in Melbourne and passed away on December 22, 2018. Ruth, a lifelong resident, and her husband, Charles, owned and operated Charlie's Glass Shop in West Melbourne for over 30 years.
She is survived by her Son, Jesse C. (Sybil) Stiggins, Sr.; daughters, Jeannie F. Hosley and Ann S. (Jack) Neelon; six grandchildren and many great and great great-grandchildren. Ruth was predeceased by her husband, Charles H. Clapper, Sr; children, Merrie Kathryn Clapper, Samuel L. Stiggins and Charles H. Clapper, Jr. and Great-grandson Jesse C. Stiggins III.
A Celebration of Life will be held Sunday, January 13th, from 2 until 4pm at Moose Lodge #1406, 157 Dayton Boulevard, Melbourne Village, 32904.
In lieu of flowers a memorial donation may be made to Hospice of Heath First.

1 entry.
Spent many summers with Merrie and Mr. & Mrs. Clapper in Daytona. Driving to brothers and sisters down south. Remember coming home from skating or movies and the clappers would be sleeping waiting up for us in those recliners. We also would get into painting the upstairs, making donuts normal kid stuff and something would go wrong and Mrs. Clapper with her cute little blond curly hair would give us a little teaching and then we would all be back to normal. She was a great mom and sweet person. Prayers for your family.