Shane J. Halberstadt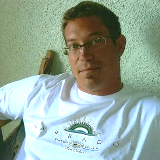 Born in Fayetteville, North Carolina on July 29, 1976
Departed in Melbourne, Florida, on April 20, 2019
Shane J. Halberstadt, age 42, of Palm Bay, FL, passed away on Saturday, April 20, 2019 in Melbourne, FL. He was born in Fayetteville, NC on July 29, 1976 to Gary and Sandy Halberstadt. He attended Satellite High School (Satellite Beach, FL), Class of 1995.
Shane worked for Bright House Communications and the restaurant industry. His smile could light up a room and everyone who worked with him enjoyed his fun demeanor and laugh. He was a genuine friend, could fill a room with his presence, and was a devoted father to his children. He was a hard worker and did his best to help others. He was a foodie who enjoyed cooking, coffee & Coca-Cola! He listened to all kinds of music, enjoyed playing poker, and was an avid Chicago Bears and Cubs fan, just like his Dad. Shane attended Calvary Chapel in Melbourne, FL.
He is survived by his mother, Sandy Gambrell (Keith); wife, Katie Foley-Halberstadt; three children; sister, Leigh Paige Mace (Brad); nephews, nieces, cousins, and friends. He was preceded in death by his father, Gary Halberstadt.
Services will be at Calvary Chapel, 2955 Minton Road, West Melbourne, FL on Friday, April 26, 2019 at11:00 a.m.
Please join the family after the service for light refreshments
2 entries.
Missing you everyday, sweet brother. I love you, Sis.
Shane indeed had a brilliant smile and an ease with people that was remarkable. We were all very saddened by his passing, but will remember always his warm personality. May peace be with his family