Shirley L. Rentfrow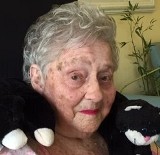 Born in Decatur, Illinois on February 19, 1929.
Departed in Melbourne, Florida on October 6, 2018
Shirley L. Rentfrow, 89, of Melbourne went home to Heaven on Saturday October 6, 2018.
She was a homemaker and the best chili maker in the whole world.
She is survived by her daughters Linda (Mike) Carroll, Debra White, Patricia (Harold) Bowman-Yap, sons Richard, Charles (Betty) and Keith (Belinda), nine grandchildren, numerous great-grandchildren and her twin brother James (Juanita) Peterson.
Calling hours will be will be held on Thursday October 11th from 10am to 11am with a Celebration of Life at 11am in the Brownlie – Maxwell Funeral Chapel.
2 entries.
Sending deepest sympathy to each member of Mrs. Rentfrow's beloved family. May God uphold each of you and bring His peace into your being.
I will always remember Shirley as an avid reader. I can remember exchanging many a book with her over the decades. She will be missed by all.