Steven John Huss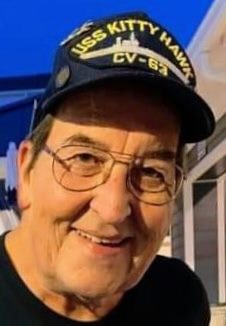 Born October 7, 1951 in Minneapolis, Minnesota.
Departed on December 26, 2020 in Palm Bay, Florida
Steven John Huss, the greatest Papa in the world, passed peacefully on December 26th, 2020 in Palm Bay FL at the age of 69.
Steve was born on October 7th, 1951 in Minneapolis, Minnesota to father Steven John Huss and mother Elizabeth Joyce Gerdin Huss.
After graduating from De La Salle High School in 1969, Steve proudly served in the US Navy aboard the aircraft carrier USS Kitty Hawk (CVA-63) as a Green shirt who ran and maintained the ship's fighter jet catapults and arresting gear. His service took place during the Vietnam War where he was stationed at Clark Airforce base at Subic Bay in Manila, Philippines where he met Merla Gallardo, his former wife and mother of his 2 children Steven lll and Melanie. Steve was honorably discharged June 16th, 1976 after 4 years.
After his service, Steve moved to Maryland for a job opportunity fixing airplanes. During this time, he welcomed a son Steven John Huss III. After the work ended they moved back home to Minnesota where he worked IN the family business, started by his Dad and Uncle Chet, Janson's Juicy Joe (as opposed to Huss's Juicy Steve). While in Minnesota, Steve earned a Degree in Law Enforcement.
In December of 1980, Steve and his family of three moved to Satellite Beach, FL. On January 21st, 1983, Melanie Marie Huss was welcomed to the family.
Steve proudly served his community exceptionally as a full time sworn Police Officer for Satellite Beach, FL from 1980 to 1986. He continued his work as a Police Officer/Crime Scene Detective for Palm Bay, FL 17 years thereafter.
During Steve's career in law enforcement, he earned numerous awards such as: Police Officer of the year 4 times, 2nd place 4 times, Knights of Columbus Officer of the year 4 times, Exchange Club Officer of the year 4 times, 4 Life Saving Awards, 1 Risking His Life to Save Another's Life Award, MADD most DUI arrests for either Satellite Beach PD or Palm Bay PD 6 times with over 801 DUI arrests, Distinguished Service Award, Four Meritorious Service Awards, along with numerous Letters of Commendation. He was an exceptional Police officer and was proud to protect and serve.
Steve loved the Philippines, Filipino culture, food, and people. He was a respected member of the Filipino American Association of Brevard County (FAABCO) of which he also served proudly as President.
Steve enjoyed the game of hockey and golf, all types of fishing, rooting for his home sports teams the Vikings, Lighting, Navy vs Army, attending Solar Bear games with his entire family, watching police shows (COPS, Blue Blood, LIVE PD), sending funny memes, always the jokester, sharing amazing stories, and always loved visiting with friends, reuniting with fellow brothers and sisters in blue, and spending time with his family.
Survived by his son Steven John Huss III, daughter Melanie Bradley and husband Nick, and 7 grandchildren Alexandra, Steven the IV, Austin, Angelique, Jade, Norah, and Nolan. Sister Elizabeth Ann Yerks and husband Loren, sister Cecilia (Cricket), and preceded by sisters Katherine and Teresa (Tippy). Steve loved his family so much and just as they loved him.
Respected by his community and co-workers, friends to us all, this honorable selfless man of integrity will always be walking the thin blue line, cherished forever.
Services will begin at 12 pm at St Joseph's Catholic Church Saturday January 2nd, 2021. Steve will be receiving both Military and Police Honor Guard.
2 entries.
Great neighbor, cared for his community and overall wonderful guy. We would always meet on Fridays while mowing our respective lawns and discuss current events and our past military service as Vietnam vets. Always had a joke to tell. Will be missed, but great to have known him. Rest in peace Steve.
There are no words.. Uncle Steve gave me my first job. Working on the line filling Juicy Joe's. We kept in contact over the years thru Facebook. I will miss his witty comebacks. Much love to all of you.