Ted Day, Jr.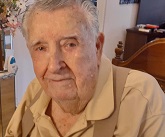 Born on October 21, 1925 in Huntington, West Virginia
Departed on May 15, 2021 in Melbourne, Florida
Ted Day, Jr, left this world May 15, 2021 in Melbourne, Florida at the age of 95. Ted was born in Huntington, West Virginia. Joining the U.S. Navy at the age of 17 during World War II. He served aboard the USS Zellars in the Pacific Theater of the war where the ship was heavily damaged by Japanese kamikaze attacks. Returning to Huntington after the war, Dad married his sweetheart and love of his life, Sherleen Day, nee Smith, and began the career that he would retire from with the U. S. Postal Service. Dad accepted a transfer with the Post Office to Melbourne in 1957 So,with two young children, Ted and Sherleen along with Ted's mother Mary Ann, his sister Freda and her two children all moved to Melbourne.
Ted was an avid and accomplished do-it-yourself-er his whole life, always involved in one project or another. He was never too intimidated to try big projects, having successfully built three houses. Ted was an active member of the Masons, a Volunteer Firefighter, and worked with Boy Scouts of America. Ted was a generous , caring, and trusting individual always looking for the funny side of life. One anecdote he was fond of sharing was when taking scouts on a camping trip, a fallen tree across a canal provided a path to the other side. Dad led the way, half way across, the tree trunk gave way, throwing Dad into the drink. It was an hilarious moment for the scouts and Dad too. Ted was a wonderful father to me and I am truly blessed to be his son.
Ted was very proud of his military service, so it was only fitting that he was buried with military honors by the U.S Navy. He would have loved the ceremony.
Preceded in death by his wife Sherleen Day, his son David A. Day, his grandson Ryan M. Day. Ted is survived by his wife Judy A. Day, nee Crotts, son Terry L. Day and daughter in law Cyndy L. Day of Reno, NV, grandchildren Lisa Day and Bobby Day of Melbourne, Aaron P. Day and Megan K. Day of Reno.

4 entries.
Merry Christmas my beloved Ted You are on my mind constantly. There is no one who can erase my thoughts. Christmas just is not the same without you. My love for you is still the same. I talk to you constantly and I even dream of our wonderful Marriage. Til I see you again Judy
He was the most wonderful man I've ever known. I am honored and thankful to have shared so many moments of my life with my beloved Grandpa. I will always think of him as the fantastic man that he was to me when I was a boy. I could never repay him for all he did for me. I had two amazing grandfathers, and I think Teddy always thought he was second fiddle in my eyes. But to me he was the best. Such a profound influence on my life for the good. Can't ask for more than that. Thank you Grandpa, I love you until the end of time--and beyond. Say hello to Rene for me!
Forever in my heart The Flag that draped your coffin has a special place in our home Until we meet again Love from your wife Judy
Ted was a wonderful husband, father, brother and grandfather. I can not express how happy I was in being his wife. He made my life complete. Ted gave me a valentine's card that said it all and I would like to share. Who would have thought that two such different people would meet, fall in love, and be happy together......But that's just what we did... Happy and in love. Til we meet again my love Your wife Judy