Teresa Accomando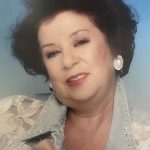 Born on September 2, 1932 in Bogota, Colombia
Departed in Melbourne, Florida on February 23, 2020
Teresa Accomando passed away at home on Sunday, February 23, 2020. Teresa graduated from architectural university in Colombia and moved to the U.S. in 1963. She worked for TWA for many years in New York before moving to Florida in 1986. She was a member of St. Joseph Catholic Church in Palm Bay.
Teresa was the center and beloved matriarch of her family. She was pre-deceased by her beloved husband Vincenzo Accomando and is survived by her loved daughter Maria King; sons, Herman Espinel, Rick Espinel (Melissa) and Maurice Espinel (Beth) and cherished grandchildren, Ricky King (Amy), Patrick King (Jennifer), Jennifer Espinel, Scott Espinel and Hunter Espinel. Her sisters, Fanny Ribon, Cecilia Paredes, Sasa Russi (Eduardo) and brother Guillermo Gonzalez.
A funeral mass will be held on Saturday, February 29, 2020 at St. Joseph Catholic Church, 1425 Miller Street in Palm Bay, Florida, followed by interment at Fountainhead Memorial Park, Palm Bay, Florida.

5 entries.
Dear Grandma, You and grandpa were the glue that held our family together. The love that bounded is together. The love that kept us going each and every day. You and grandpa loved each and everyone of your kids and grandkids. The love you guys instilled in our will live on forever. I know these words are something you would tell all of us right now as we navigate through I am lying next to you, awake now while you sleep, For death has just released me, yet in your dream you weep. If only you could see me, so peaceful and serene, But you must live a little more and carry on the dream, A dream from which one day you'll wake and see me by your side, And know for sure that I'm still here and that I never "died." So now go on, be strong and look for me in wondrous things, In the quietness of starlight and the warmth that sunshine brings, And hear my voice to calm you, to say that it's all right, For I'm only here beside you, whispering in the night. Of course you'll cry, you'll miss me, your very soul will ache, But I am here, a breath away, waiting for you to wake, So know that life is just a dream of love and fleeting pain, And know I'm waiting by your side to love you once again. Te Amo para siempre❤️ Your granddaughter -Jennifer Espinel
Grandma. There really wasn't a dull moment in our lives growing up with you and Grandpa always being there for us grandchildren. We have had some really good times and some of the best times. You will truly be missed and will always hold a place in my heart. I will love and remember you always. Your first grandson - Ricky.
May you rest your soul in peace Mom, I love you so much and will miss every day until the day I meet you again in heaven. You were the glue that held us together, so brave, protective, caring, funny, drove us crazy sometimes but your love for your family was amazing. I will carry you in my heart until we meet again.
Dear Maria and Family, We are so very sorry for the loss of your beloved Teresa. You are in our thoughts & prayers. Love Cindy & Joe Pawlak
Maria, My heart goes out to you and your family. I only knew your Mom from her visits with you at Lake in the Woods. She was very sweet with a wonderful sense of humor. May she Rest in Peace.