Terry Lee Kerr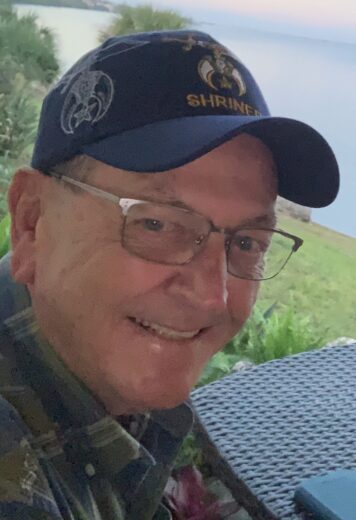 Born on November 11, 1942 in Sadorus, Illinois
Departed January 23, 2023 in Palm Bay, Florida
Terry Lee Kerr, 80, of Palm Bay, Florida who was a Freemason, laid down his working tools on Monday January 23, 2023 and passed away unexpectedly but peacefully at the William Childs Hospice House. Terry was born and raised in Sadorus, Illinois; born November 11, 1942 to Lois O'Dell. Terry was raised by his loving grandparents Charles & Irma Odell. In high school he was an avid photographer and enjoyed singing and acting in his school musicals.
On June 21, 1977, he married his love, Pamela Jean Bell of Champaign, Illinois. They soon moved to Palm Bay, Florida in 1977 to start their next chapter. Terry continued his lifelong career in the car business once he was here in Florida and eventually retired from Palm Bay Ford.
Terry & Pam enjoyed their time together volunteering for numerous organizations while forming many lifelong friendships. Many of those friendships were made as a proud and longtime member of the Elks & Moose Lodges where he held many different titles and responsibilities. Terry was a loving husband, father and grandfather and friend to so many. He is already missed, especially by his Moose Family. He will be remembered most by his sense of humor and kind heart. Terry was lovingly known as "The Cat in the Hat".
Terry committed his life as a young man to the Freemasonry. He was a proud member of the Masonic Lodge 143 in Melbourne, Florida and Azan Shrine Center.
Terry was predeceased by his beautiful wife Pam Kerr. He leaves behind his daughter Trish and her husband Bobby Talbert, grandsons Rocco & Jake Facciobene, daughter Suzie and her husband Doug Goad, daughter Sheri and her husband Randy Drake and grandchildren Kaycee, Sammi, Shaun & Chris and 5 Great Grandchildren.
Terry's Celebration of Life will be held at Brownlie Maxwell Funeral Home at 2 pm on February 11, 2023. Calling hours will be from 1-2 pm. A reception will follow at the Palm Bay Moose Lodge at 1346 Malabar Road, Palm Bay, Florida, 32907. Friends & family are welcome to attend and encouraged to share their memories.
Anyone that would like to make expressions of sympathy is asked to consider the Shriner's Hospital in Terry Kerr's name:
Shriner's Hospitals for Children
3 entries.
So sorry to hear of Terry's passing. Always remember Vic Osman and Palm Bay Ford days. He hooked me up with the Shriners hospital when my niece needed back surgery. Will never forget the "Cat in the Hat"
I am so sorry about the passing of your father. Our parents leave us with many great memories that we think of and appreciate the rest of our lives. I hope your memories of your father will bring some smiles in your lives and feel blessed that he was your father. Thinking of all of you.
Was a so glad we got to visit with Terry before his passing! Will never hear King of the Road that I won't hear him singing at Karaoke night! Love and miss you Mike and Corky