William Francis "Bill" Watkins, Jr.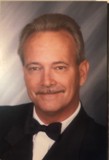 Departed in Palatka, Florida on November 28, 2018
William Francis "Bill" Watkins, Jr., 61 of Palatka, passed away unexpectedly Wednesday, November 28, 2018 at Putnam Community Medical Center.
A native of Detroit, MI, Bill grew up in Palm Bay, FL, and was a 1975 graduate of Melbourne High School. He lived in Tampa and had been a resident of Palatka for 37 years. He graduated from the police academy in Frostproof and was an instructor of defensive tactics in St. Augustine. As a deputy sheriff in 1987, Mr. Watkins received a Merit Award from the Modern Woodmen of America after he and another Palatka police officer rescued from the St. Johns River a woman who had been involved in a highway accident and ejected from her car.
In 2004, Bill retired from the Putnam County Sheriff's Office (PSCO) after serving 29 years in law enforcement where he had worked as a road deputy and a detective in the property crimes division.
He as was a member of Palatka Moose Lodge #184 where he was serving as Junior Governor. He was a past Governor of the Moose and had attained the Fellowship Degree. He enjoyed NASCAR, was an avid FSU fan and enjoyed playing the accordion. He also enjoyed fishing and spending time on the river and traveling.
He was preceded in death by his parents, William and Paula Watkins.
Surviving are his wife of 16 years, Susan Watkins of Palatka; two sons, Billy Legg of Savannah, GA and Devon Watkins of Jacksonville; three daughters and son-in-law, Jacqueline Mecal Watkins of Gainesville, Dawna Maynard of Palatka, and Kasie and Joshua Jones of Palatka; a brother, Jim Watkins of Melbourne; a sister, Nancy Watkins Marlin of Sanford; two step-sons and spouse, Mathew Lohman, and Phillip and Brittany Lohman all of Eastland, TX; a step-daughter and spouse, Tracy and Chester Cherry of Palatka; 12 grandchildren; and several nieces and nephews.
A memorial service will be 5:00 p.m. Saturday, December 1, 2018 at Masters Funeral Home in Palatka with local Moose Lodge members presiding.
In lieu of flowers, memorial gifts are requested to Mooseheart Child & City School, Inc., Mooseheart, IL 60539 or to Moosehaven, 1701 Park Ave, Orange Park, FL 32073 or online to either or both charities at www.moosecharities.org.
Messages of encouragement or sympathy may be expressed in his online guestbook at www.themastersfuneralhomes.com.
Masters Funeral Home of Palatka is in charge of arrangements.
1 entry.
I attended Mel High with Bill and remembered what a valued friend he was. My condolences to the family. Bill Wigton Mel High class of 1975