Julie Marie Cook Polenghi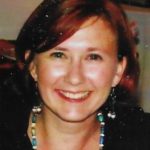 Born in St. Petersburg, FL on August 25, 1975
Departed in Melbourne, Florida on September 9, 2019
Julie Marie Cook Polenghi 1975-2019
Julie Marie Cook Polenghi passed away on Monday, September 09, 2019 in Melbourne Beach, FL. She was born in St. Petersburg, FL
Julia was the wife of Dennis Polenghi and the mother of their two young sons, Domenico and Oliver Polenghi. She was the daughter of John and Janet Cook of Melbourne Beach. Her brother John Cook, Jr. resides Key West.
Julia was a woman who had a zest for adventure, learning, and nature. It was a life of love, accomplishment and fun.
Especially, she loved being with her family and friends. Denny shared her love of adventure. She instilled in her boys, Domenico and Oliver, her love of learning, nature and fun. As a mother, she was a mother bear with a fierce sense of protection as well as a mom with a delightful whimsical spirit that brought her cubs joy. She taught her children to respect nature and it's critters by example.
Julie valued education and a good book. Julie earned multiple degrees: BA in Anthropology, University of California Santa Barbara; JD (law degree) University of Oregon, Eugene and an advanced law degree, LLM, Masters of Law in taxation, University of Florida, Gainesville. Her anthropology studies took her for a year to the University of Accra, Ghana, West Africa where she lived locally vs in university housing. As an extension of law studies, she studied Comparative Law at Adelaide University College of Law, Australia.
Professionally, Julie was a Senior Partner at Bovay & Cook (Gainesville). Julie then became a US Treasury Tax Law Specialist and author for Congressional Correspondence in tax free organizations (Washington D.C.). Her most recent position was Senior at Partner Cook & Clark (Melbourne).
Julie traveled and lived on 6 continents. Only Antarctica remained to be experienced. She explored The Great Wall of China and the ruins of Macho Pinchot. She journeyed to Timbuktu across the Sahara Desert by camel. She honeymooned for a month traveling through southeast Asia and experienced the Nargis Cyclone typhoon in Myanmar.
Julie loved all things Florida from the Gulf of Mexico, to the Suwannee River, to the Florida Keys. She chose to build her home with her family here along the Atlantic Ocean in Melbourne Beach. She swam along with her boys as they learned to surf the ocean waves.
As a friend said of Julie's legacy to her sons, "May her silly soul continue to shine in them every minute of every day". It is her "silly soul" that brings comfort to our broken hearts that will always miss her.
"Sunset Celebration of Life will be held Saturday September 28, 2019 at 7:00pm at the North Spessard Holland Beach, northern most beach entrance. Bring your beach chair.
2 entries.
I am so saddened and sick over this,, I just tried to call her I don't even know what to say she was a big part of my life and I loved her dearly
Denny and Sons,Carlo ,Barbara and family My Deepest Sympathy .She will be surely missed. May God be With you all at this time of Grief.