Teresa Ann Fernatt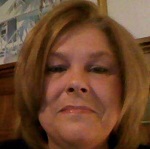 Born on February 27, 1961 in Charleston, West Virginia
Departed in Melbourne, Florida on March 25, 2020
Teresa Ann Fernatt,59, went home to be with the Lord on March 25, 2020 to meet her sister, Tressa, and her favorite singers, Michael Jackson and Elvis Presley. She fought and beat Leukemia in 1994. She was then fighting multiple diseases such as Diabetes, heart disease, heart attack, etc. Unfortunately, it was Lung Cancer Stage 4 that she fought but was unable to beat. She is preceded in death by her sister Tressa Marie Adkins, who passed in November 2019,and her beloved dog Lucy. She is survived by her husband Randy; two sons Brad (Christi) and Chad, daughter Tiffany (Brantly) and grandson that she raised as her own CJ; Parents William and Patricia Adkins; brother Scott (Sherri) Adkins; grandkids Dylan, Alexis, Isaiah, Cason, and Kayden; beloved dogs Bowser and Ringo, and cats Sophie and Sissy; niece April and nephews Zach and Emmette, and several great nieces and nephews; when her kids were little, "adopted sons" Thomas Aluise, Timmy Young, Matt Durrett, George Ball, and Hollywood Todd; "adopted daughters" Heather Clendenin,Sarah Grubbs, and Amber Ball; caring friends Steve, Bob, and Stan. She was a cheerleading coach at Tornado Midget League, where she met life long friends, such as Carolyn, Rick, and Beth Mullins, Modenah and Charlie Chandler, and friends from Hayes Jr. High, Anita and Steve Durrett. She enjoyed working as an Assistant Manager at 7-11 with Bobby and Bryan. She will be remembered by her famous words "SHUT THE DOOR, DON'T LET THE DOGS OUT!" Her memorial service will be held at a later date.

14 entries.
So sorry I went to schilling with treasa and tressa god bless u
So very sorry for your loss. May God bless you and your entire family
Sorry for your loss. Tell Tressa I miss her and that I love her ❤
Corlis and I are very sorry for your loss. We hold in our prayers. She will always be remembered but never forgotten. Bless You All.
I am so so very sorry about Teresa, God Bless her family and friends .
I only knew her for a short time and she was a nice and friendly person.
Even though I'm not of Fernatt Blood she never treated me any different than my sister Erin Fernatt. You'll always be my Aunt Teresa Fernatt . Rest in Peace you have always been a fighter now you can finally rest... Love, Chrissy Reed-Fernatt Roop
To Randy, May God provide you comfort through his grace and tender mercy. You are always in my prayers. How sweet that you included her pets in her list of those left behind, because they grieve for life, just like people. She must have been a truly wonderful person and I am so sorry for your loss.
RIP:TERESA We will always hold our Tornado midget league times dear. May God give your family peace and strength at this time. God bless you all. ?? Carol,Eric,and Beth.
Dear Randy, Tiffany, Brad and Chad and FAM, Know that you all are in my thoughts and prayers up here in West Virginia during this difficult time. I am so sorry for your loss if your dear wife and mother Teresa. Blessings and comfort to you all. Sincerely, Bob
I'm so sorry anut Teresa. And I'm so sorry for everyone your leaving behind. You were always funny, and my my would tell all kinds of funny stories of you too together as kids and teenagers.And "Tree" I really hope your back wit"sissy" ???
Teresa was beautiful both inside and out. I remember her growing up even though I haven't seen her in years, she's not one you forget. The Fernatt has always been close to our family. Like an extension of our family. So Sorry for your loss.
Teresa you will forever be in my heart, thoughts, and memories. I love you.