Al Kloeppel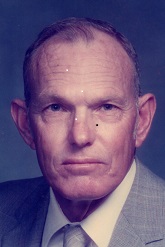 Born on June 4, 1931 in Malabar, Florida
Departed on January 20, 2022 in Grant, Florida
Al Kloeppel was born and raised on Malabar Road just west of the Sonny's Barbeque. His parents, Herman and Elizabeth Kloeppel originally came from Missouri alongside his uncle Bill and aunt Ceil Kloeppel. They were farmers and started out as share croppers. As a young boy, there were household chores and work in the fields. Al was the youngest of three with his sister Betty and brother Fred. He was known to run wild in the woods and there were many stories of mischief including Fred, along with his cousins Bill and Charlie.
At fifteen, Al built his own air boat which he used to frog and gator hunt in order to help support his family. Although he spent most of his time outside of school in the marsh, he always came in to town for Sunday Mass.
Al attended K-12 school at Ruth Henegar and was a graduate of Melbourne High School. During his high school years, Al met and started dating Betty Barker. He played football and worked nights on the draw bridge at the Melbourne Causeway. Upon graduation, Al spent the summer working for an ore boat on the Great Lakes. He then enlisted in the US Navy ad while in training school at Memphis Tennessee, married Betty, his wife of 50 years. Al served as an aviation electrician aboard the aircraft carrier "the Coral Sea" and they were stationed at Norfolk, Virginia. After two trips across the Atlantic, a tour to Cuba, and the birth of his son "Bernie", Al decided that the Navy was going to be difficult on family life and was honorably discharged.
They returned home to build a house on Malabar Road and raise their family with the birth of two daughters, Mickey, then Marcie. Al went to work for Southern Bell as an installer, test board supervisor and cable repairman. After 35 years, he retired from Bell South as it was called at that time.
Al and Betty had built a retirement home in Kenansville, but Betty passed away from cancer before they could move. Al spent the next 15 years there, spec fishing and gator hunting on Lake Marion. He also enjoyed deer hunting in Georgia with the Serna family. For the last five years, Al lived with his daughter Mickey and son-in-law Sonny on Grant Road. He died peacefully at their home on January 20. 2022.
Calling hours are from 5 – 7 pm Thursday, February 3 at Brownlie Maxwell Funeral Home, 1010 E. Palmetto Avenue, Melbourne. His Funeral Mass is on Friday, February 4, 2022 at 10:30 am at St. Joseph Catholic Church, Miller Street, followed by burial in the church cemetery.
11 entries.
I have great memories visiting Uncle Al, Aunt Betty, Bernie, Mickey, and Marcie. I first learned about brown eggs after Uncle Al called them "armadillo eggs." He had a great sense of humor and helped make this city boy learn about the country. I really appreciated the time that he visited Mom after Dad passed and coming up to the panhandle during my retirement. He was a true gentleman. Our thoughts and prayers are with the family.
My memories of Al, are of serving with him on the Cemetery Committee, at St. Joseph Church. He always added his pleasant, and positive, outlooks on our endeavors; especially during the expansion phase of our planning. RIP Al
All was always one of my favorite bosses, his dry sense of humor and his ability to stare at you without smiling until you got it will always be a cherished memory!
We will miss Al, always enjoyed being with him. Have fond memories of time spent with he and Betty on Malabar Rd. Always will appreciate how he looked after my Grandparents in their later years. Our thoughts are with Bernie, Mickey, and Marcie and Al's grandchildren.
Knowing Al and his family for years has been a wonderful privilege. It was always nice to share holidays and celebrations with them. Al was a good and hard working man. I loved to listen to him talk about how different things were in Malabar and the surrounding areas when he was young. Great stories! I will miss him and send my love and condolences to Bernie, Mickey, Marcie and families
Al was a good man who I knew from my years at BellSouth. I will miss him.
worked with you will be missed
Niece, daughter of Fred Kloeppel Uncle Al was always nice to be around and quite a character. I'm sorry he is no longer with us and wish him peace as well as his family.
We worked with Al at phone company and connected off and on over the years.Al was very respected . Rip old friend. Dave and Diane Yates
Always enjoyed our visits with Al and Betty. Prayers of comfort and grace for all the family, especially Mickie, Marcie and Bernie. Aunt Paulette ❤️
Always enjoyed our visits with Al and Betty. Prayers of comfort and grace for all the family, especially Mickie, Marcie and Bernie. Aunt Paulette ❤️