Alberto Enriquez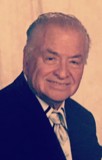 Born in El Paso, Texas on December 1, 1929
Departed in Rockledge, Florida on December 11, 2018
Alberto Enriquez, 89, was born in El Paso, TX and died December 11, 2018 in Rockledge, FL. Alberto moved to Brevard County in 1966 from El Paso and was the owner of Alamo Mexican Restaurant.
He is survived by his wife of 70 years Irene Enriquez; children, Albert,Jr.(Jennifer), Patsy, Carrie (Chuck), Jannette and Debi; grandchildren, Trish (Eddie), Melissa, Maria, Michael (Kelly), Christina (Monika) and Erika; great-grandchildren, Jeni, Jake, Torre, Tristen, Nicolas, Chloe, Meredith, Jack, Cooper, Madison, Mia, Maddox, and soon to be Maxwell; great great-grandchildren, Illeighina, Alexander and Jax; several nieces, nephews and great and great great nieces and nephews.
A funeral Mass will be celebrated for Alberto at St. Mary's Catholic Church on Wednesday, December 19th, 2018 at 11:00am.
3 entries.
My dear grandfather, Papi, was a truly special man who touched the lives of so many. We will all miss you deeply.
Our deepest condolences to the whole family, we love and respect Alberto so much! Will miss him immensely, God Speed Buddy...til we meet again!
Blessings and love to the family of Alberto. He was a great presence in the community. The Alamo restaurant was the favorite of our family for many happy gatherings through the years. Our prayers are with the family at this time of great loss.