Alice Faye Lanford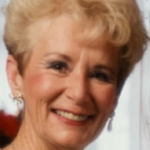 Born on June 9, 1933 in Cincinnati, Ohio
Departed in Melbourne, Florida on March 18, 2020
Alice Faye Newkirk-Stallings Lanford was born on June 9, 1933 in Cincinnati, Ohio and passed away in Melbourne, Florida on March 18, 2020. Alice moved to Florida as a young girl, where she graduated from Fort Lauderdale High School as a majorette. She attended nursing school at Jackson Memorial in Miami, graduating with the Royce Award, the highest honor in her program. While at Jackson Memorial, Alice met her soulmate, Dr. William Stanley Lanford, and they married on May 24, 1955.
After a stint in Highlands, North Carolina, the two ultimately settled in Indialantic, becoming a fixture in the tiny seaside community with their family practice, one of the first in Brevard. As head nurse, Alice utilized her incredible personality in her care for patients, bringing them comfort when they needed it most. In her personal life, Alice perfected the roles of wife, mother of five (Stan, Lisa, Mike, & Lori), Memaw of thirteen, seamstress, socialite, and friend. Her outgoing persona, beauty, and kind heart charmed all who knew her.
Alice considered her greatest accomplishment to be her exemplary marriage to Dr. Lanford. Every moment the two spent together was pure bliss. The strength of their love was that of fairytales.
Alice was also the consummate hostess. Over the years, she organized and threw events ranging from Easter egg hunts, to debutante parties, baby and bridal showers, and of course, her annual Christmas Eve party.
In her later years, Alice enjoyed her role as matriarch, continuing to care for her husband, children, grandchildren, and great grandchildren. Alice also still loved sewing, supporting Georgia Tech athletics, and gardening. During the last years of her life, Alice was cared for by Lori, her husband Scott, their three children, Allie, Taylor, and Hunter, as well as her dear nurse, Robin.
Alice's kindness was the defining characteristic of her being. Her endless supply of unspoiled compassion, empathy, and forgiveness will be missed forever. However, the family finds comfort in knowing her one true wish has come true – she is together once more with her beloved Stanley.
Alice is preceded in death by her husband Dr. William Stanley Lanford, son Stan Lanford, and granddaughter Lindsey Lanford. She is survived by her children, Lori (Scott), Mike (Jennifer), Lisa (Chip), daughter-in-law Joanne Lanford, grandchildren & great-grandchildren (Hunter, Taylor, Allie, Ashilee, Tyler, Chipper, Mike Jr., Brandon, Stanley III, Nikki, Demetri Jr., Casey, Gaines, Grant, Emmie, Shane, Wesley) of Melbourne, Florida and sister, Donna Newkirk-Stallings Dreyfus of New Milford, Connecticut.
Alice: a devoted wife and mother, a caring nurse, a loyal friend, a talented seamstress, the most loving Memaw, the best at surprises, a graceful majorette, a clumsy little woman full of antics, and the self-described ugly duckling who became the beautiful swan.
To view Alice's memorial video, please click here: https://www.youtube.com/watch?v=j0yZfUCLdDE
Services are private.
11 entries.
a truly wonderful nurse, wife, mother, and an inspiration to so many! worked briefly in Dr. Lanfords office as an office nurse. The best Christmas party ever of my entire life was in their home. so sad to learn of Alice passing but know the legacy she's left behind is an enduring love for all humanity! RIP dear alice
Mrs Alice Lanford was a very lovely lady with a beautiful smile. She was very people oriented and loved being with her family which is how I came to know her. Be at peace with your love Alice. You'll never be forgotten! My prayers go out to all the Lanford family.
I always looked forward to a visit with Uncle Stan , Alice and my cousins because we usually had an unplanned ' adventure', usually due to Alice's 'larger than life' personality. Alice kept us entertained with shopping trips, luncheons and cleaning Uncle's Stan's office on the weekends. I am honored and blessed for her to be my Aunt. Until we meet again Alice, 'Go Jackets'. Love, Carol Abreu
Sincerest condolences to the Lanford family. Fond memories of Mrs. Lanford. Wonderful, loving, accomplished woman. Hope she & Dr. Lanford are smiling down on their family with pride & love.
I send each of you my heartfelt sympathy, I will keep you in my thoughts and prayers. Alice was a dear, dear, friend of mine, I have many happy memories of times spent together. Consolation is she is now with Dr again. Shirley Copeland.
Our deepest sympathy going out to all family and friends, she was a great woman.
I extend my sympathy to all. I have nothing but pleasant memories of Alice and of all that she did for the community.
Dear Lori, Scott, Allie, Taylor , Hunter and the rest of your family! Just wanted to send our love and deepest sympathies! Your Mom/ Memaw was a wonderful lady! I remember her going to Hunter's football and baseball games, loved sitting with her and talking to her, listening to her stories was the BEST! I loved how much she loved Brett and how she treated him like one of the Grandkids! I loved how she would light up with a BIG SMILE when she saw him! Brett loved her too (especially when she would make her yummy crepes for him!) We all loved your Mom and Memaw! I know it's hard losing her but just think of how HAPPY she was to see your Dad and Brother again! You will all be in our thought and prayers as you go through this difficult time!!! We Love You Guys! The Anderson's ❤️
I have such fond memories of Dear Aunt Alice. She was beautiful inside and out! Every trip to Florida was so special . She would take us everywhere and made me my favorite green jello! I know she is in Heaven with Uncle Stan, Mom and dad. They're probably singing Ramblin Wreck .My thoughts and prayers are with my cousins at this difficult time. Love, Claire G.Hallman
My heart is so heavy today as I learned of Alice's passing. Our family goes back so far with Alice and her wonder Dr. Lanford, and all the family. It was in 1955 when we moved to Melbourne that my mother, Loretta, went to work as an RN for the new to Melbourne, Dr. Lanford and his partner, at the time. I have many laughs babysitting the Lanford children when they were small. Our connection and friendship has continued ever since. Alice came and helped care for my Mother on many occasions when she had cancer and died in October 1985. How lucky I was to know this spunky little lady for almost all of my life. Love you all Lanford family and thinking and praying for you all during this sad time. ♥