Alice J. Walls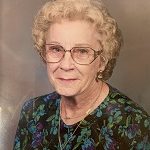 Born on May 19, 1928 in Charleston, West Virginia
Departed in Chuluota, Florida on April 5 2020
Mrs. Alice Josephine (Bossie) Walls was born 19 May 1928 to father Frank Lawrence and mother Maude Mae (Neely) Bossie, in Charleston, WV. The ninth of ten children, she returned to our Lord, her husband Marshall, her daughter Marsha Alice, and her parents and siblings on 5 April 2020, Palm Sunday.
She leaves behind her living children Carol Kasch (Richard), Donna Poe (Michael), Linda Beauregard (Ray), Alan Walls (Linda), Janet Phillips (Michael), Alice Hardy (James), and Lisa Costa (Barry).
A devout Roman Catholic, she was always active in her church at Our Lady Of Lourdes in Melbourne, FL. Her life was her children; her focus on their education and religious upbringing. She was the beloved matriarch of a large, close, and happy family that includes 18 grandchildren, 26 great grandchildren, and 28 in-laws who viewed her as their mother. This 71 member family is her living legacy.
A devoted Marist, she dedicated herself to the Virgin Mary. She traveled to Lourdes, Medjugorje, Fatima, Guadalupe, the Vatican, Greece in the footsteps of the Apostle Paul, Israel, and other religious pilgrimages. She led the Elderhostel program at San Pedro Spiritual Center for the Diocese of Orlando, started a rosary group that made rosaries for the sick and for military members, and led a rosary prayer group. She was a trained Grey Lady volunteer at OLL school. When her husband became ill and was unable to work, she worked three jobs at a time to put food on the table. Her dedication to family, her work ethic, and the traditions of faith she established were all instilled in her children and an inherent part of who she was. It is not with sadness but with pride and deep gratitude that such a mother was bestowed upon us that her family commends her spirit to God. She will forever be in our hearts.

1 entry.
May Mrs. Alice's soul rest in peace! ?? John 14:2- "In My Father's house are many rooms. If it were not so, would I have told you that I am going there to prepare a place for you." The Miranda Mercado family sends!