Anita Riblet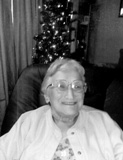 Born in Holton, Indiana September 17, 1934.
Departed in West Melbourne, Florida on September 13, 2018
Anita Riblet of Melbourne, FL passed away surrounded by her loved ones on Thursday September 13th in Melbourne.
She was a native of Holton, IN and moved to Melbourne in the 60's. She was a secretary at FIT and Melbourne Eau Gallie Moving and Storage.
She is survived by her sons John (Barbara), Jimmie (Carla) and daughter Collette and many grandchildren.
Memorial Service will be held at the First Church of the Nazarene on Monday September 17th at 6pm.
Donations in her memory may be made to her church.
11 entries.
I have known Anita for many years at our church and she always had a hug and a smile for all. She was a special lady and will be missed.My sympathy goes out to the family for your loss.
You were so loved and will be missed dearly!
My heart hurts and i will miss so much And are talks and your Loving hugs , I will keep my promise To you I love you mom l I I see you again My beautiful angel💜
Always in our thoughts and forever in our hearts.
You will be missed Grandma Anita! From all the years of sharing Korina and Lewis with you and of course Colette, we became friends and I could talk to you for hours. You and I bonded over the kids and I will always miss you and love you. You are at peace now and know you have made an impact on many lives.
Very few people have the privilege of being a pastor to someone as incredible as Anita. She was a woman of prayer and study; she loved to learn from and about God's Word. I never left a time with Anita when I wasn't more encouraged than before I came; she prayed prayers that were filled with genuine love and concern. I knew she loved me. And while I knew she loved me, it was really my girls she adored the most. Every single time I'd show up without them at my side, she would ask, "Why on earth did you come without my girls!?" Deep smiles, warm hugs, and an appreciation for every moment we had together were guaranteed with Anita.
You can rest now high upon the mountain we're truly going to miss you. you are a wonderful mom mother-in-law and friends too many, you're a grandma too many children they all loved you so very much any child that came in touch with you just fell in love with you we're going to miss you but rest in peace now and we'll see you on the other side I love you and it's not goodbye it's see you later and talk to you soon love your daughter-in-law as you would call me your daughter Barbara and I miss you and see you on the other side mama
Anita was a wonderful woman and my 2nd mom. She will be missed.
RIP Sweet lady..I wasnt lucky enough to meet you..but I knew your amazing Daughter Collette..So im sure you taught her to be Amazing like you...May you fly with angels now and live in eternal peace...xoxoPBP