Ann Marie Fahy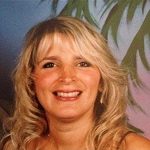 Born on April 28, 1963 in Guardia, Italy
Departed in Melbourne, Florida on March 30, 2020
It is with great sadness that we announce the sudden passing on Monday March 30th, 2020 of Ann Marie Fahy , 56 of Indian Harbour Beach, FL.
Ann Marie was born in Guardia Lombardi Italy to her parents Luigi and Ana Siconolfi. Ann Marie lived in Switzerland briefly before moving with her family to the United States and settling in West Harrison, NY.
Ann Marie was fortunate enough to have two careers, a special education teacher and a real estate agent. Each career was extremely fulfilling, as Ann Marie was able to shape the lives of so many students and assist homebuyers in purchasing their dream home.
Ann Marie is survived by her husband Paul, three children Joe, Anthony and Briana, daughter-in-law, Brigida, two grandsons, Joey and Steven, and much extended family and friends.
Ann Marie's caring & loving nature, generosity, and warm hugs will be missed by all!
Services will be at a later date.

22 entries.
You will be forever in my heart and mind. I miss you...
I'm so sorry. Ann Marie sold us our townhouse in Montecito and was always wonderful to work with. Sending condolences to her loving family.