Ann Patricia Bush
Mrs. David Hoard Bush / née Ann Patricia McReynolds
Ann was born 27 October 1922 in Cincinnati, Ohio, the second child of Lt. Commander Robert Wing McReynolds, Junior (US Navy, Annapolis 1917) of Dallas, Texas and his wife the former
Miss Dorothy Claire MacRae of New York (Holy Cross Academy). She was predeceased in 1992 by her husband of 41 years, David Hoard Bush of New York (BA Cornell University, MBA Harvard University), an executive with Proctor & Gamble, and former Captain in the US Army Corps of Engineers during WWII.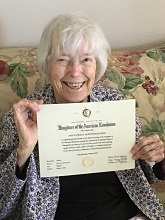 Beloved Mother of David MacRae Bush, and daughters Elizabeth Bush Bollich and Cornelia Wendell Bush. Beloved grandmother of Christopher David Bush. She attended Highland Park High, and took a Bachelor of Arts (BA) in English Literature from SUNY New Paltz, followed by a Master of Library Science (MLS) from Columbia University. During her career in education, she and her husband co-founded the Ramapo-Catskill Library System, together with several friends. She served on the Board of Directors of the Museum Village in Orange County, New York. In retirement, she became an author.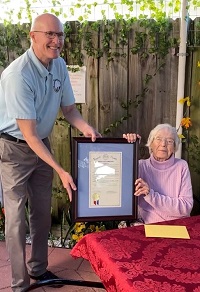 Ann was a member of the Junior League, the Daughters of the American Revolution, the Huguenot Society of America, the Society of Daughters of Holland Dames, the National Society Colonial Dames XVII Century, the Military Officers Association, and the Army-Navy Club. She was recently recognized for her many accomplishments by resolution of the Brevard County Commissioners, on attaining her 100th birthday.
She will be greatly missed by her friends and family alike. Interment will be in the family plot on the lake at Woodlawn Cemetery, Bronx, New York.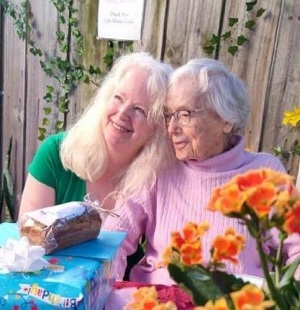 Contributions in her memory may be made to Saint Francis Reflections Foundation in Brevard County, Florida.

8 entries.
What a wonderful lady. She had the greatest most sincere smile. She had a great life, and with your support Wendy, you made it so much better. God bless. She is with David now.
What a testament of a life well lived ! Ann will always be in her children's hearts as they carry on with her gift of showing the path to a life of service to others Prayers to her family as they adjust to life without her
Mrs. Bush was an incredible woman with the best personality I could try to describe. She touched everyone she met. Unforgettable.
My deepest condolences to you and the whole family.
My sympathies to Wendy, Libby and David and the rest of the Bush clan. Ann had a long wonderfully full life, but she will be missed. She was such a gentle soul with a beautiful warm smile.
My heart and prayers are with you and your family!
She was a lovely lady and her daughter Cornelia was always by her side. I'm so terribly sorry for her loss and pray for her family in this time of sorrow!!