Anna Jean Kimble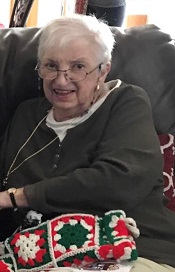 Born on August 30, 1935 in Foxborough, Massachusetts
Departed January 24, 2023 in Melbourne, Florida
Anna Jean (Sylvia) Kimble passed away peacefully on January 24, 2023 surrounded by her family in Melbourne, Florida at the age of 87.
Anna was born in Foxborough, Massachusetts on August 30, 1935 to Stephen Alton and Mary Elizabeth (Daler) Sylvia. She is survived by her daughter, Mary Alice (Steve) Houghtaling; son, Michael (Michelle) Kimble; daughter-in-law, Lisa (Mikey) Elfers; sister-in-law, Christine Sylvia; grandchildren, Erik, Kyle (Chelsea), Mary (Mark) Jones, and Stephen (Elise); niece, Jean and nephew, James; grand-niece, Natalie; and great grandson, Konnor. She was preceded in death by her husband of 40 years, Kenneth Ralph Kimble and brother, John Joseph Sylvia.
Anna graduated from Foxborough High School in 1953 and continued her education until she received her nursing degree. She married Ken in 1962 in Foxborough and became a dedicated Navy wife until 1981, when Ken retired after 26 years. Afterward, they moved to Lake Jackson, Texas and then to Palm Bay, Florida, where she lived out the rest of her life.
Anna became an avid Bingo player while living in Florida and made many friends there. She also loved football. Her lifelong favorite team was the New England Patriots. However, her favorite pastime was spending time with her family, especially being Nana to her four grandchildren.
A small graveside memorial service is being planned for a later date in her hometown of Foxborough, Massachusetts.

3 entries.
I knew you through your daughter. Enjoyed spending time with you gambling at Hard Rock many years ago. I know your family will miss you!
To my sweet,sweet mother-in-law……..You are going to be missed by so many people especially me! I loved our weekly visits and conversations. I was always amazed at your sharp mind and incredible memory, absorbing all the information we told you and talking about it on our next visit. I am especially going to miss playing Bingo with you every weekend( even though the both of us lost most of the time)! I think I enjoyed it as much as you. I love you and miss you very much!❤️ Until we meet again….Rest in Peace Mom!❤️😘
Love you Aunt Anna. God speed and say hi to all of the old gang that have been pining for you.