Antoinette D. Ellis-Brown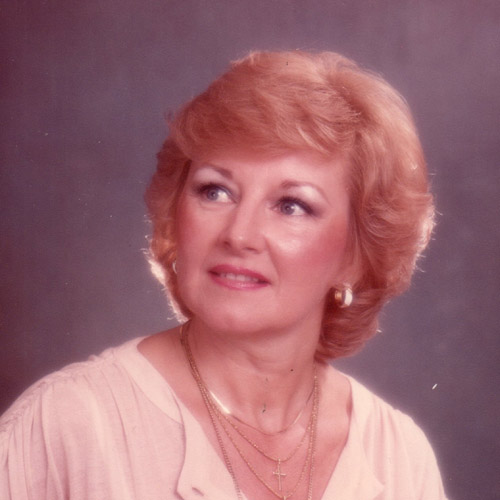 Born on June 19, 1938 in Normandy, France
Departed on August 30, 2020 in Indialantic, Florida
Antoinette, known as Toni, passed away on August 30, 2020, at her home in Indialantic. Her husband, David, was present as she passed peacefully to be with the Lord.
Toni was born in Normandy, France just before the WW II started. Her family owned a large farm in Central Normandy. Her mother, Odette, was the only girl of eight children. Her father, Amand, enlisted into the French Army in 1940 and died in battle. During the occupation, her mother was a refugee with 2 infant children., With her sister, Yolande, Toni had to move from small village to small village, where her mother worked on farms to keep her children fed. After the war ended in 1945, her mother remarried and they settled in Cherbourg. Toni was a very precocious child and usually got into trouble with her stepfather. At 15, she started to work as an apprentice hair stylist. In 1955, she moved to Paris to live with her sister and to finish her apprenticeship. In 1958, she became a licensed cosmetologist, and worked at a very successful salon on the Rue Victor Hugo. She met and married Norman (Chris) Brown in 1961 and they moved to the USA the same year.
Chris and Toni moved to Melbourne in 1965, when her employer, Vincent and Vincent, wanted her to open and manage a beauty salon at the Melbourne Mall on Babcock Avenue. Chris' brother also lived in the area. Their first son, Patrick, was born in 1966. Chris re-enlisted into the service in April of 1969 and was sent to Viet Nam, where he was killed. Their second son, Christian, was born in November. She raised her two sons alone for some 10 years.
Toni started her own business, Toni's Coiffures of Art in 1969, located on Eau Gallie Boulevard, beach side. She owned the business for over 25 years and sold it in the mid 1990s and it became Dan's Salon. Many of the successful cosmetologists in the area owe their career success to Toni's influence. Toni never retired and was working until the Pandemic closed all of the salons.
Toni met David Ellis-Brown in July of 1979 and they were married in November at the Wren Chapel at the College of William and Mary in Williamsburg, VA. They were married for over 40 wonderful years.
Toni has four grandchildren, Patrick has three daughters, Sierra, Natalie, and Christy. Christian has a son, Gavin. She is also a great-grandmother to Sierra's daughters, Lily and Carliegh.
Toni was member of Beta Sigma Phi sorority for over 50 years. She was also a member of the Garden Club by the Sea and had served on the Women's Advisory Board at the Eau Gallie Yacht Club.
Services will be held at Holy Name of Jesus Catholic Church, 3050 N. Hwy A1A, Indialantic, on Thursday, Sept. 17, 2020 at 1:00 pm with visitation beginning at 12:30 pm. A celebration of Toni's Life will be held at a later date.
11 entries.
I'm so sorry. Toni was a special woman and her memory will live on forever. My deepest sympathies - sending peace, comfort and strength.
It's so sad to hear that she has passed away. She was always so kind and caring. I would practice speaking French with her when she was waiting. She will be missed dearly. Prayers for comfort during the difficult times.
Although I did not work with Toni for as long as some of my coworkers..we worked together for some time. it was always a pleasure to walk into the salon and see Toni's smiling face, and quick wit. She was a special woman and we will all miss her at dans..my condolences to david and family...so sorry for your loss.
David, Patrick and Christian, I am so sorry for your loss. Tony was a wonderful friend and will be missed by many. Love to all.
My parents were good friends of Toni's, and my brother and I were exactly Patrick and Christian's ages. Though we moved away when I was five, I always had fond memories of being at Toni's house. Batman on the TV. Playing games in the yard out back. And when I went from junior to senior high school, Toni gave me my first Farrah Faucet feathered haircut! She was always kind and stylish, and she will be missed by many.
Her smiling face will always be remembered.
Toni was such a wonderful, beautiful friend, and there are no words to express our love and sorrow. We are thinking of you, Patrick, Chris, and the grandchildren with prayers, love, and sympathy for your tremendous loss. Toni was truly such a special lady!!
Was a great part of my professional life working for and with Toni, a great mentor and friend! Hard working woman that never stopped! Raising boys being married to David . Always taking care of others. Garden club ladies enjoyed her flowers and talks of Normandy . Work friends enjoyed her humor and her warmth. She will be greatly missed by all who knew her!! My heart felt condolences to David and her boys.
One of my dearest and best friends. I shall always remember her in my heart. My mom was going to Toni at Vincent and Vincent and I followed her there and everywhere else Toni went! We became great friends, even lived at Southgate apartments in Melbourne together when the boys were young. I had 2 boys and so did she. We had so much fun. Toni was still cutting my hair until COVID. I will miss her so much, she is at peace now with the Lord. Love you Toni.
So very sorry to hear of your loss. Your in our thoughts as you grieve.
David, I am so sorry for your loss. I remember when you and Toni married. You and I worked at Documentation Prayers to you and the family.