Audrey Carter Quillen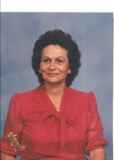 Born in Lee County, Kentucky on January 8, 1925
Departed in Melbourne, Florida on January 10, 2019
Audrey Carter Quillen, 94, born in Lee County, Kentucky joined her Heavenly Father on January 10, 2019. She was a 60 year member of First Baptist Church of Melbourne. Audrey was a beloved wife, mother, grandmother and great-grandmother to her daughter, Sandye (Lee) Garrett, son, Jimmie (Dusty) Carter; grandchildren, Charles, Cheri and Christopher Carter and Ronald Toenes, Jr.; 4 great-grandchildren and numerous nieces and nephews. She was predeceased by her husbands, Thomas B. "Nick" Carter and Paul Quillen and 5 sisters. A memorial service will be held on Sunday, January 13, 2019 at 2:00 pm at First Baptist Church of Melbourne. In lieu of flowers, donations may be made to First Baptist Church of Melbourne.
3 entries.
Aunt Audrey, you were always a beautiful fun loving Aunt. You will be missed by your nieces and nephew. Janis, Sharon, myself (Marian) and Samuel. The Allen kids. You are now in Heaven with JESUS and what a reception you must have received. The one thing I remember the most is how you kept and used my 1957 Bible and until you could return it to me in person. I keep It by my bedside and think of you each time I read it. May the Lord keep your love ones in his hand during this time of sorrow. Your niece, Marian
You were a blessing to many, Aunt Audrey! Well done, good and faithful servant! Your niece, Linda
Audrey was a best friend of my deceased wife Selma as we served together in the First Baptist Church. Their relationship was very strong and we loved her as family. Dhe will be sorely be missed during these days of mourning and condolences go out to her beloved family who she served many times sacrificially. See you later - the sojurn is over and she is now with her savior.