Audrey McGonegal Myers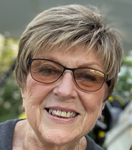 Born on November 30, 1942 in Passiac, New Jersey
Departed in Palm Bay, Florida on January 1, 2020
Audrey McGonegal Myers, 77, of Palm Bay, passed away after a long courageous battle with cancer on January 1st, 2020.
Audrey was born on November 30th,1942 in Passaic, New Jersey. She is the daughter of the late Elton and Sara (Stephenfield) McGonegal.
In 1971, she married the love of her life, the late Brent C. Myers and had 2 sons Mark and Eric. In 1983, Brent and Audrey moved to Brevard County, where she worked in the medical field for many doctors including Dr. Basil Theodotou for the last 20 years as his office manager.
In her free time, Audrey loved solving puzzles, reading books and listening to Bruce Springsteen. She always loved camping with her family but hated the bugs. Christmas time was her favorite time of the year, where she could cook a big dinner for her family and watch her grandkids open their presents. She will be truly missed but never forgotten.
Audrey is survived by her sister Dolores Alsdorf, son and daughter in law Eric and Tara Myers, niece Dolores (DA) Walsh and grandchildren Jackson, Kayli and Walker Myers.
A memorial service will be held on Saturday January 11th at 2pm in the Brownlie – Maxwell Funeral Chapel.