Bobby Stephen Meyer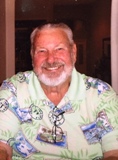 Born in Frostproof, Florida on March 21, 1940
Departed in Melbourne, Florida on December 7, 2018
Bobby Stephen Meyer, age 78, died suddenly at his home in Melbourne due to heart failure on December 7, 2018.
Born March 21, 1940 in Frostproof, FL to Leo and Lora Mae Meyer, he moved to Melbourne with his family in 1952. In 1956, he met, fell in love and married his high school sweetheart, Jill Linda Dull, while still a sophomore attending Melbourne High School. He eventually graduated from Mel High in 1958, finding time to overachieve in football for the Bulldogs while also a student, friend to all, and family man.
An original "Radiator" who first started working at Radiation, Inc.'s Melbourne Airport campus in 1959, he was a draftsman and designer for 40 years with what eventually became Harris Corporation before retiring in 2005 to pursue fishing and spending more time with his family.
He is survived by his wife of 62 years, Jill, their sons Steve (Trish) and Sleighton (Cheri), and daughter Stefany (Dino); grandchildren "little" Sloan, Janey, Maria, Gina, Jake, Charlie, Shane, Jackson, and Gracie; and great-grandchildren Madison, Jaxson, Jenson, Emma, and Branden. He is also survived by his brothers Morris (Anita) and Carl (Prill); sisters Lavonne (Fred), Diana (Bob), and Martha (Dean); and more than two-dozen nephews and nieces.
And he leaves behind his beloved dog, sidekick and daily walking partner, Holly.
He was preceded in death by his parents; his sisters Betty and Evelyn; and his son, "big" Sloan.
A viewing will be held at Brownlie and Maxwell Funeral Home on Friday December 14th from 5pm – 8pm. Funeral services will take place at Heritage Baptist Church in West Melbourne on Saturday, December 15th at 2 pm.
29 entries.
Thinking of you today Love you
My heart goes out to "Aunt" Jill, Steve, Sleighton, Stephanie and their families. My family and the Meyer family have been friends my entire life and have many memories of time together over the years. I had the privilege of calling him "uncle" even though we were not really related. He was a coach, teacher and mentor to countless people, kids and adults, over the years. He always had a smile on his face and lived with a joy some people never achieve. He was a well loved family man and friend and will be missed. My prayers for his family in this time of grief and my gratitude for his friendship with my parents and our family throughout all these many years.
He will be missed very much. We would see him everyday walking Holly, he always took the time to stop and chat if we were outside. We have similar dogs, and a common intrest in Football so there was always something to chat about. It has been very strange not seeing him walk down our street over the last week . Our prayers go out to his Wife, and family , and to all those who knew him. He will be forever remembered.
We are so sad for this loss. Bobby was such a great man who was caring and kind at every turn. He welcomed us and our children with open arms and always treated us as family. Though he was subtle and quiet about it, he always made sure everyone had everything they needed. Our hearts go out to his family. Thank you, Bobby, for your love.
I met Bobby through his favored nephew Leonard Blackburn, in 1967. I will never know why, but he took time with me to try to lesson me on more than just football. It has been more than 45 years since I've talked with Bobby, but through the years I have often recalled his valuable advice and believe because of it, I became a better man. Thanks "Uncle Bobby," you are remembered.
Jill and family I was so sorry to hear about Bobby. Our thoughts and prayers are with all of you. I pray Gods blessings and love with you during this time. Love you. Mildred and family.
Our deepest sympathy and prayers go to his family, friends and church family.
Today and always, may loving memories of Bobby bring you peace, comfort, and strength. We pray that in the midst of your sorrow you find comfort in all the joyful memories. Our love and deepest sympathy to the entire Meyer's family.
You will be missed and always loved. Thank you for all the wonderful memories over the years and they will be remembered forever...as you will. We love you.
So very sorry to hear, a good friend and so enjoyed playing football with Bobby. God Bless We will meet again.
Dear family, I'm so sorry for the loss of your dear husband,dad,and granddad. I pray you find comfort in the days to come from Jesus our Lord and the memories you share of Bobby. Love and prayers for all the family.
Bobby was such a wonderful person, always happy and smiling. He will be missed so much by so many. We are keeping you all in our prayers. Love, Greg & Ginny
Sleighton & family, My heartfelt sympathy and condolences to you and your family during this difficult time of loss. May your beloved DAD rest in peace until you all meet again. May he RIP! Bonnie Romero
Praying for Stefani and her entire family. God's peace and presence go with you all.
Sending healing Prayers and comforting hugs. We loved this special man.
Our most heartfelt prayers to the family. He was loved and will be truely missed. Hugs
So sorry for your family's loss. You and your family are in our thoughts and prayers.
You will be dearly missed. We love you
What a wonderful, witty and patriotic man. Anyone who was lucky enough to have known Bobby was, indeed, lucky enough. He will be sorely missed and remembered with great admiration and gratitude.
Thank you for being such a jolly person everyday we saw you walking Holly. We will miss you and talking with you about the Gators!!