Bonnie Jean Curry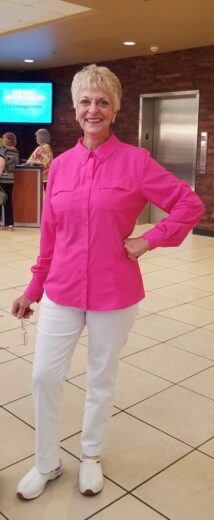 Born on July 28, 1949, in Key West, Florida
Departed March 25, 2023 in Fellsmere, Florida
Bonnie Jean Curry, 73, of Fellsmere, Florida, beloved mother and grandmother, went to be with the Lord on March 25, 2023. She passed at home in peace with her daughter and granddaughter by her side.
Bonnie is survived by her daughter Rolynn Platt, her two sons Chase (Kimberly) Platt and Cody (Carol) Platt; her five grandchildren Reese and Kenna Barley, Carson, Carys and Cayden Platt; her two sisters Pricilla Hale and Rita Porter; her brother Robert (Teri) Curry and her many adored family members and friends.
Bonnie was born to Doris and Thompson "TA" Curry on July 28, 1949 at the Monroe County Hospital (Naval Air Station) located in Key West, Florida. She was a such a sweet, well-behaved child that her grandfather "Poppy" nicknamed her "Honey Dripper". During Bonnie's childhood, her family moved to several naval bases from Key West, Florida to San Diego, California to Norfolk, Virginia and then to Jacksonville, Florida. Upon her father's Naval retirement, her family moved to Merritt Island (Mosquito Lagoon) and then to their final homestead in West Melbourne, Florida. Bonnie was a smart, determined and courageous child. Around age three, she wanted to ride Billy, a rather ornery horse and insisted on being allowed to try. She immediately crawled up his heck and bit him on the ear to let him know who was the boss ! Needless to say, she was able to ride Billy, without incident, many times after that.
Around age ten, while living on the Mosquito Lagoon, she caught a series of baby alligators that she would dress up in doll hats, dresses and shoes. All of them eventually escaped but not before her mother captured photos of them all dressed in their "Sunday Best". One of her fondest childhood memories as growing up in West Melbourne riding her beloved horse, Lassie, along with a group of her friends, many of whom she developed lifelong friendships. They would swim with their horses and even rode them to Southwest Junior High School, all wearing matching red checkered shirts. It was a sight to behold!
She graduated from Melbourne High School in 1967. She was married in July of that same year and through marriage was blessed with three wonderful children. Later, she would be even more blessed with five amazing grandchildren. Sharing life with her family was one of her greatest joys. In the mid 1970s she worked at Holmes Regional Medical Center where she started out as a cardiac transcriptionist. The cardiologist she worked for recognized her potential and keen intellect and provided the way for her to pursue further education in the field of sonography. Over her extraordinary career in health care, she aquired great expertise in her field and developed and fostered many lasting, personal relationships with her employers, co-workers and patients. She was one of the first to become a "registered sonographer". She was also one of the first in Florida to receive accreditation of her cardiac and vascular laboratories through the IAC (Intersocietal Accreditation Commission).
Bonnie worked alongside some of the most prominent cardiologists and vascular surgeons in St. Lucie, Indian River and Brevard County and was a true leader in her field. Her credentials included RDCS (Registered Diagnostic Cardiac Sonographer), RVT (Registered Vascular Technologist) and CCT (Certified Cardiographic Technician). She was a member of the SDMS (Society of Diagnostic Medical Sonography) ASE (American Society of Echocardiography) and SVU (Society for Vascular Ultrasound).
Outside of her work, Bonnie found great joy in spending time with those she loved, both family and friends. There was always room for one more at her festive dinner table. A fabulous cook who hosted the best parties full of fun, food, entertainment and love. She loved to dance, swim, camp out, fish, shoot, ride ATVs and cheer on her grandchildren at school, rodeo and sports events with her signature high pitched "head turning" whistle. She loved all animals and especially enjoyed admiring and feeding the wildlife around her home. Two of her most cherished adult memories are August 21, 2021 when she accepted Jesus Christ as her Lord and Savior and then the joy she experienced on May 12, 2012 when she was baptized in the name of the Father and of the Son and of the Holy Spirit. She loved the Lord 100%! She was generous, kind and compassionate her whole life. She welcomed troubled teens, family, friends and any person or animal in need into her arms and her loving heart.
The first stanza of the "It Is Well With My Soul" hymn was her mantra especially in difficult times. She would speak it and it would give her strength and comfort. When the world looked dim and evil loomed, her faith endured and carried her to a place of hope, peace and gratitude. Without a doubt, when God met her at the Heavenly Gate, He flung His arms wide open to embrace her and whispered, "It is well with your soul my child".
A private Celebration of Life will be held to honor Bonnie's memory. In lieu of flowers, donations may be made in Bonnie's honor to help Lauren's Kids, an organization founded as a vehicle to prevent childhood sexual abuse and help other survivors heal. Donations may be mailed to 4000 Hollywood Boulevard, Suite 677-S, Hollywood, Florida, 33021, telephone (786) 288-5045 or visit: