Brian C. Lafond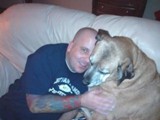 Born in Manchester, New Hampshire on December 5, 1973
Departed in Indialantic, Florida on February 14, 2019
Brian C. Lafond, 45, of Indialantic passed away on February 14, 2019 at home. He was a native of Manchester, NH.
Survivors include his wife Amy, mother Lindsay Mullins, aunts, uncle and cousins.
Services will be private. Anyone wishing to make an expression of sympathy is asked to make it to The Prostate Cancer Research Foundation at www.pcf.org.
3 entries.
I didn't know Brian, but I know Lindsay. Though her, I felt the great love they had. My thoughts and prayers are with the family in this time of sorrow. Life is a blessing and I know the lived it everyday, making memories to last forever.
Brian was my much loved son in law....passing much too early from this world. He had so many health problems for many years that he tried to ignore and cope with...finally pain was unbearable... My daughter Amy, his beloved wife, was there with him in the end....loving him until God called him home...We thank the Lord for giving her the strength to perservere these long months ...and for allowing us so many years to be a part of Brian's life....loved him so. Please share your prayers for all of us as we deal with our grief and loneliness, especially Amy and his mother, Lindsay Mullins....we will always miss him but he will be forever in our memories and our hearts. Love in Christ, Ann Lockaby Meadors
Brian, you are at peace now-no more pain. I miss you terribly. You are forever in my heart. Love you- Mom