Burke R. O'Kelly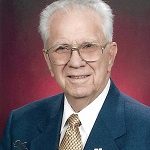 Born on December 21, 1923 in Memphis, Tennessee
Departed in Melbourne, Florida on February 14, 2020
Burke R. O'Kelly, 96, passed away on Friday, February 14, 2020. Burke was born in Memphis, Tennessee on December 21, 1923. He proudly served in the Marines in WWII. He graduated from Auburn University where he met the love of his life, Selma. His family moved to Brevard County in 1956 due to the space program expansion. He was a member of the First Baptist Church of Melbourne where he served as a Deacon and Sunday School teacher for 50 plus years.
After retirement, He and his wife Selma loved to camp in their Airstream, and in his later years did model railroading and then
computers. He was preceeded in death by his wife Selma, his father Vernon D. and his mother Blossom Jackson O'Kelly. Also predeceased by two brothers, Vernon and Jack O'Kelly, and a beloved sister Dot Jacob.
He is survived by his Sons, Frank (Gail) O'Kelly and Kenneth (Lora) O'Kelly; grandchildren, Blaine, and Ryan (Danielle) O'Kelly.
Visitation will be Saturday, February 29 from 10am and 11am at First Baptist Church of Melbourne with a service to follow at 11:00am. Donations may be made to WCIF, or FBC Building Fund.

6 entries.
RIP Burke, you were always a great friend...Semper Fi!
What a blessing to have crossed paths with this special uncle! His kind spirit always blessed my heart. He made a difference in this world as he lived out the command to love each other. He will be missed.
We will miss Uncle Burke. He was such a kind and godly man. Our love and prayers goes out to the family.
We will certainly miss Uncle Burke! He was a wonderful man as well as a very smart man. He and Aunt Selma and my parents had some great times together. Judy
Burke and Selma were an early influence in my life. I saw Burke at a Church wide picnic in Spring last year. I was amazed that he picked up his own chair and took it to the car!! He was a Godly and gentle spirit of a man. Sympathy to the family, Jean Crews