Carl G. Cowart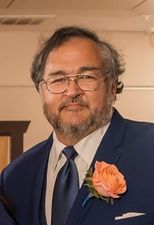 Born on September 26, 1961 in Tanana, Alaska
Departed September 28, 2022 in Melbourne, Florida
On Wednesday, September 28, 2022, Carl G. Cowart, loving husband and father, passed away at the age of 61.
Carl was born on September 26, 1961 in Tanana, Alaska and adopted by Claude and Betty Cowart. He worked for the city of Melbourne for 29 years, initially working in equipment maintenance for 5 years and then moving on to become a firefighter for 24 years. On November 5, 1989 he married Diana Rose and together they raised one son, Shawn.
Carl had a passion for working on cars, exploring the outdoors, and going on trips to Disney with his wife. He loved to tell funny stories about his mischievous childhood. He had a great sense of humor and an infectious laugh.
Carl was preceded in death by his father, Claude, and his mother, Betty. He is survived by his wife Diana, his son Shawn, daughter-in-law Brooke, and an abundance of extended family.
A celebration of life will be held on Saturday, November 12, 2022 at Wickham Park pavilion one at 1pm.
6 entries.
Our deepest condolences to you who loved him best. So sorry for your loss. I wish I had known him better.
Love, hugs, and prayers. Carl will be greatly missed.
I'm sorry for your loss. He is in God's hands now. Praying for you and your family. 🙏
Carl will be sorely missed, he has been one of our greatest friends over the years. I always loved getting together weather it be on a 4x4 adventure or just going to dinner. You know I ran into him in the Sam's Club parking lot when he was on his motorcycle and we talked for over 2 hours. I'm gonna miss my friend Carl. ☹️💔
I miss you so much . Rest in peace my love 💓 Forever and today 💕
I love you so much dad. Glad you are not in any more pain and hope you are having an amazing time seeing grandpa and grandma and driving your 55 around. We love you very much and miss you. Rest in peace