Charles D. Miller, Jr.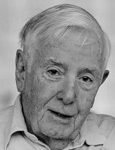 Born in Charleston, South Carolina on November 26, 1927
Departed in Palm Bay, Florida on September 8, 2019
Charles D. Miller Jr. of Indialantic, FL, a retired Professional Electrical Engineer died on September 8, 2019 at William Childs Hospice House.
Mr Miller was born on November 26,1927 in Charleston, SC. He was the son of Charles D. Miller and Ruth Johnson Miller. He served in the US Navy in WWII. After leaving the Navy, he graduated from Clemson University majoring in Electrical Engineering and later obtained a Masters Degree from Florida Institute of Technology. His initial engineering employment was the Air Force, Ground Communication, at Warner Robbins Air Force Base, GA in 1956 working on the Eastern Test Range, FL. In 1958, he was transferred to Weapons Systems Engineering at Warner Robbins and then accepted a liaison engineering position on the B-58 aircraft, bomb navigational and fire control system, at Convair /Air Force Plant, Fort Worth, TX. In 1962, he transferred to Patrick Air Force Base and was assigned to The Ships Special Projects Office, Engineering Branch. Later he was promoted to Division Chief of Range Ships Operation and Engineering. His final assignment within the Government was Director of Special Projects, Range Development, Eastern Space and Missile Center. He retired from the US Government after 38 years of service at the end of December 1988. Mr Miller performed consulting services to five different contractors after his retirement.
Mr. Miller leaves his beloved wife of 69 years, Gloria Martin Miller and their children, Keith Miller (Fran) of Palm Bay, Kim Dunn (Casey) of Melbourne and Ruth Basil (Tom) of Long Island, NY and two predeceased sons, Charles D Miller III and Kenneth B. Miller (Joy). He leaves one sister, Constance Thompson living in Charleston, SC. The Millers have eight grandchildren, six great grandchildren and one great-great grand daughter.
A Celebration of Life is being held at First Baptist of Indialantic at 10:00 am on Saturday the 14th of September.
3 entries.
Our hearts & love are with this precious family. Charlie was such a sweetheart! Fifty-three years of good memories ❣️
Daddy, I will miss your voice and the advice you share and your hugs, I miss just hanging out with you. I hit the jackpot with you as a dad. Love you so much. Kimbalin
Dear Gloria and Family, I just heard of Charlies passing this past Sunday. I always enjoyed seeing the two of you in Melbourne and in Cashiers. Such a nice and funny man. He will be missed by many. God Bless.