Charles Edward Ruby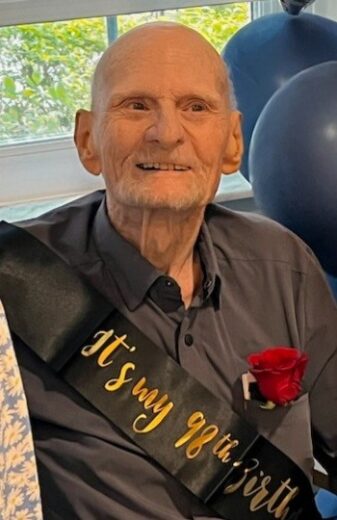 Born on July 3, 1925 in Columbus, Ohio
Departed November 13, 2023 in Seffner, Florida
Charles Edward Ruby, age, 98, of Brandon Florida passed away peacefully at home in his sleep on Nov 13, 2023. He was previously a resident of Palm Bay, FL, Charleston, WVA and Columbus, Ohio.
He was called "Chuck" or "Charlie" and even "Chole" depending on who was calling him. He was known for his quick wit and unassuming humor, deep love for his family, genuine love of people and his generosity for helping others. He loved to bring a smile to people's faces. When the mood struck he would write poems, stories, funny lines, and sometimes notes to those he loved or to whom he wanted to express something. Many will remember his ability to memorize poems and rattle them off on a moment's notice, his story of "Nail Soup" passed down from his mom, his stories of his escapades as a teenager sneaking into the State Fair Grounds with his friends for numerous adventures, his memorable "Scrooge" characterization at Good Shepherd Church for many years, and though he could never carry a tune he found a place where he could "pretend sing" and play all kinds of characters when he joined "The Pretenders" in Palm Bay, Florida. Certainly there was never a dull moment when Chuck was in the house.
He was born on July 3, 1925, the oldest child of three born to Marie and Albert Ruby in Columbus, Ohio. He served in WWII in the navy as a cook. After his stint in the navy he began working at Copco Papers in Columbus, OH. When Copco opened a new facility in Charleston, WV he was asked to help with the start up and packed up and moved. He not only served well as office manager and later as Vice President at Copco but every summer he made the Copco family picnics unforgettable with fun /unusual games. There is still footage out there somewhere of adults and kids chasing live chickens all over the park.
And it was in Charleston that he met his first wife, Josephine H. Sayre. They married in 1948 and had two children together. Sadly, Jo and their son, Charles Allen (known as Allen) both passed away from cancer– (Allen in 1965, Jo in 1967). Chuck was devastated from these losses but was determined to raise his daughter, Pam, in a positive environment with a positive outlook as a single father.
After Pam was married he moved to Palm Bay, Florida and in 1981 married Barbara Schmidt (Bobbie) and they shared 24 years together. Bobbie lit up his life until her untimely death (following surgery) in 2005 Chuck's heart was broken after her death as all those who knew him can attest. After several years of living alone and a serious bout with the flu, he moved to Brandon, Florida to be near Pam, his grand daughters and great grand sons. He quickly developed new friendships at his retirement community but his family knew something was missing in his life. His "spark" was gone. He tried to hide it but wasn't able to do so completely. Then one day a new resident moved into the community and, as he always did, (because he was friendly and outgoing), he introduced himself to Betty Lou Sims. Within days, they were inseparable. Betty became the new light in his life. The new love that he thought would be impossible at his age. He and Betty married on Jan 13, 2019. Chuck never dreamed God would bless him with a third love but for those who know Chuck and Betty, it was true love a third time. They shared a lot of love and laughter together in the short time they had together.
Chuck was a Christian who believed in Jesus Christ as his Savior and was very ready to meet Him as he passed from this life. His life verse was Philippians 4:12-13 and he also loved Colossians 4:5-6. For many years, Chuck was a member of Presbyterian Church of the Good Shepherd in Melbourne, FL. Most recently he has been a member of First Presbyterian Church in Brandon, FL.
Chuck is survived by his beloved wife, Betty Lou Sims Ruby, his daughter, Pamela (Bill) Hubbard, his brother, Don (Joyce) Ruby, Sr, grand daughters, Tabitha (Michael) Hertz and Katie (Jameson) Nail and great grandsons, Matthew Hertz (20) and Caleb Nail (6) and great grand daughter, Charlotte Nail (2). He also is survived by four nephews Steve, Denny, Donnie, Michael and two nieces Karen and Jennifer. He was also uncle to 17 surviving nieces and nephews from his marriage to Josephine. And from his marriage to Bobbie he is survived by his stepson, Geoff (Laura) Schoolfield, and two step grandchildren, Samantha and Justin and one step great grandson, Nolan. In addition to Josephine, Allen, Bobbie and his parents, his beloved sister, Helen, also predeased him.
In lieu of flowers and because Chuck loved to make others laugh, we ask that donations be made to "Funny for the Forgotten" (a non profit started by Christian comedian Michael Jr) whose mission is to give people who are often forgotten hope through laughter. Here is the website https://funnyfortheforgotten.com/the-vision/ to check it out for yourself. From their site: "Funny For the Forgotten is a nonprofit organization that takes comedy shows to places like homeless shelters, prisons, abused children facilities, or any place where laughter is in short supply — yet highly needed. There are a lot of hurting people who have been forgotten. We bring them hope through laughter, so they can experience joy." The family thanks you for any donation you choose to make in honor of our beloved Chuck.
He will be laid to rest at Fountainhead Memorial Park in Palm Bay Florida. A memorial service will be held in early December in Brandon. If you wish to attend in person or by live stream please contact Pam or a family member for details.
6 entries.
The Slaton family wishes to extend our condolences and prayers for all of Chuck's family especially to Betty Lou Sims Ruby, who has been my friend for almost 65 years. I know she loved Chuck and cared for him doing all she could to make him happy and cared for. He is at peace ,he lived a long and successful life.
Church was an awesome man. He loved life and sharing fun with others. I am happy that I had the opportunity to know him. I will always remember his sea-doo ride at the river. Tricia and I express our sympathy to the family. Love, Dean and Tricia Erwin
I am so sorry for the family for the loss of their beloved. I am especially sad for my sister Betty Lou Sims Ruby, because she was so happy to have found Chuck. I didn't know Chuck I live in Illinois and never got to meet him. but my sister told me all about him all the time, so I feel like I knew him. I know she was very very happy with Chuck for the short time they had together, and she is really going to be lost without him. My sincere condolences.
Our loss is Heaven's gain❣️ you will be missed dearly 😢 But we will meet again one day in Heaven🌟🙏 I Love You 😘 Kelly Doyle
My condolences to you and your family.
He was a great guy that made my mother very happy. He will be missed.