Charles Everett Clift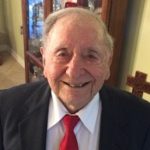 Born on January 7, 1928 in Butler, Missouri
Departed in Melbourne, Florida on April 19, 2020
Charles Everett Clift was born January 7, 1928 to Everett and Nettie Clift. He served in the U.S. Navy during WWII, and he was a true patriot throughout his lifetime. He married his soulmate, Dolores Wolfe Clift, in 1949 and they celebrated their 70th wedding anniversary last September 4th. He was a proud graduate of the University of Maryland and Chief of Procurement for NASA during its glory days.
Charles was a devoted follower of Christ. He led many Bible studies, went on mission trips, and shared the gospel of Christ to everyone he met. He prayed for the salvation of his family faithfully, and he was so grateful when each of his grandchildren came to the Lord. He worshipped at Calvary Chapel Melbourne.
He is survived by his wife Dolores, son Jeffrey Clift, daughter Candyce Clift Trew, grandson Eric Trew, and three granddaughters: Robyn Trew McMullen, Jennifer Clift Infanti and Julie Clift Greenwalt. The pride of his life were his 15 great-grandchildren who loved their Paw Paw dearly.

5 entries.
Chuck Clift was the most Godly, truly spiritual, loving, compassionate, Ambassador for Jesus Christ I have ever had the true blessing to know. He left a legacy of brining many to Jesus, was a tremendous wonderful influence upon me and my entire family. A heart like his was gold, Christ like and beyond any other measure. Extremely loved and gave without ever expecting anything in return. Influenced countless for the better and was not one to ever boast. A true gentleman with a love for Jesus. You are so missed, yet, tremendously and always remember. Thank you for having been a great influence in my life.
Chuck what a great blessing it was to have known you. I will always remember your incredible smile and your NASA stories. I know you are flying with the Angels. Thank you for your friendship. You were always such a gentleman.
It doesn't seem real... until this horrible COVID 19, I saw you nearly everyday. You were my Aggravation game partner and my prayer warrior. No one could ever replace the whole that you left in my heart. We will only be apart for a while though...
My incredible grandfather. I will miss you so much. Thank you for teaching me about Jesus, faith, and the importance of marriage and family. I will miss playing aggravation with you. I will miss laughing with you at the hospital. You were the best grandfather to me and papa to my kids. We will hug you in heaven and carry your legacy on. You were a true hero! Love, The Greenwalts
I met Chuck when I was in sixth grade and he and his wife were my Sunday School teachers. Then many years later, I married his son and became part of his family. He was a good Father and a loving, fun Grandfather and Great -grandfather. His legacy will of love and laughter will live on in his children, grandchildren and great grandchildren. He loved the Lord and shared his faith and testimony often. He will be missed! Love, Janice