Charles Houston Saunders Jr.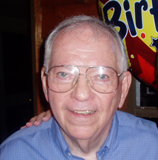 Born in Reidsville, North Carolina on December 24, 1923.
Departed in West Melbourne, Florida on July 25, 2018
Charles Houston Saunders Jr. went home JUL 25, 2018 to be with his Lord and Savior who sustained him throughout his life. He was born DEC 24, 1923 in Reidsville, NC to Grace Keller and Charles Houston Saunders Sr. He was preceded in death by his wife and mother of his children Mabel Rodgers (1920-1989) from Reidsville, NC and also his second wife Eldora Oliphant Saunders. He is survived by daughter Jean Crowder and husband Randy, grandsons Bryan and Aaron Crowder, son Brent Saunders and wife Laurie, and son Ted Saunders and wife Janet. He lived in Reidsville NC, Hampton VA, Falls Church VA and Melbourne FL. Charlie served in the Army and as a Sergeant in the USMC. He was deployed as part of the occupation force in Nagasaki Japan after the atomic bombing. Chuck was a proud graduate of North Carolina State University, worked for Melpar, Radiation, retired from Harris Corporation and finished his career at Data Flow Systems as a technical writer and keeper of the wisdom. He loved his friends and embraced everyone he met with overflowing joy. Chuck would do anything for anybody. Charles loved music, was a choir member in the early days of the First Baptist Church Melbourne and loved to sing praises to God who blessed him beyond imagination. He was an engineer, artist, musician and fisherman. He loved to take things and make them better, including his children. C.H. Jr., Charles, Charlie, Chuck Saunders left us all with hearts full of love and with lives that rise above our earthly existence.
In lieu of flowers, the family requests donations to Vitas Hospice who were so loving and gracious to him in his last days with us. A service will be held in the near future and will be announced on Charles' Facebook page.