Clara Mary Heintzman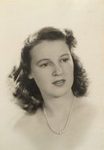 Born on February 15, 1925 in Stratton, Colorado
Departed in Melbourne, Florida on January 17, 2020
Clara Mary Heintzman died of natural causes January 17, 2020, three weeks shy of her ninety fifth birthday. A memorial service was held at the Brownlie and Maxwell Funeral Home Chapel, presided over by a deacon from Ascension Catholic Church in Melbourne, Florida. Her ashes will eventually be returned to her hometown of Mandan, North Dakota, to be interred there with her deceased husband Daniel James Heintzman, two brothers, Kenneth and Roger, her mother, Catherine Van Der Harst and father, Frank Yetter.
Clara was born in Stratton, Colorado to Catherine and Frank Yetter on February 15, 1925. She and her brothers were consequently raised in and around Mandan, North Dakota. Clara was a graduate of Mandan High School in 1943. Encouraged by her father, she entered the Saint Alexius Hospital School of Nursing in Bismarck, North Dakota and graduated as a Registered Nurse in 1946.
Clara met and married Daniel James Heintzman in June of 1947, and, after becoming a full time staff registered nurse at Saint Alexius Hospital, a position she held from 1959 to 1990, Dan and Clara raised their six children, Daniel, David, Timothy, Michael, Kathy and Jane in Bismarck. Clara maintained a rewarding career in nursing at Saint Alexius Hospital, where for many years former patients would stop her on the street and thank her for the superb care they received at her hands. After retiring from nursing in 1990, Clara and Dan kept residence in Bismarck, often hosting and spending time with their visiting children and grandchildren. Her husband, Dan, died in May of 2009, and Clara, in March of 2012, moved to Omaha, Nebraska and lived close to her son, David, who looked after his mother, until his death in June of 2016. She then moved to Melbourne, Florida, in July of the same year to be close to her daughter, Jane and her husband Peter Bittner. While in Florida Clara continued to nurture relationships with her sons and daughters, grandchildren and great grandchildren. She was a great fan of professional tennis, which she followed religiously on television, plus other sports such as football and baseball.
She is survived by her sons, Timothy (Judith Wolfer), Stanley, Virginia and Michael (Patti Pelican), Newburgh, New York; daughter, Jane (Peter Bittner), Melbourne, Florida; daughter, Kathy (Phil Lofarro), Napa Valley, California.
Clara has seven grandchildren and eight great grandchildren; Michael and Stephanie Huhn, Makenna and Blake in Parker, Colorado; Katie and Micheal Sautter, Leighton and Lillian in Omaha, Nebraska; Elizabeth Heintzman in Chicago, Illinois; Amy and Patrick Blahosky, Damien and Finnian in Deephaven, Minnesota; Mark Heintzman and Soula, Noah and Owen in Coral Gables, Florida; Henry and Will Heintzman, sons of Michael Heintzman and Patti Pelican in Newburgh, New York.

17 entries.
It has been three years ... I still miss you and think of you often. I am so glad Makenna and Blake got to know you. I love you Grandma!
I worked with Clara at St. Alexius Hospital. She was a very good nurse & liked by everyone. May she rest in Peace. Love, Sylvia
Tim, Mike, Jane and Kathy, I am so sorry to hear of your loss. Clara always impressed me as a bright and thoughtful person of considerable strength. She certainly touched a lot of lives here in our community in the Northern Plains. She and Dan raised a great family. In our experience, as time goes on we grow in appreciation of our parents, truly they were the greatest generation. Our deepest condolences. Steve and LeeAnn Tillotson
To the Heintzman family, Prayerful sympathy! Your mother lived a long full life and she was a wonderful life-giving, loving mother, wife, nurse. I taught first and second grade at the Cathedral grade school as Sister Yvonne and was Jane and Kathy's teacher. I remember your mother and dad's loving support of all you siblings. Clara left a wonderful legacy of goodness and gentleness. May God welcome her with gentle love and peace. Sincerely, Sister Susan Lardy
I remember well her and Dan's dedication to and support for their children when they played tennis and participated in other school activities. Dan, Tim, Mike, Jane, and Kathy; we offer our sincere condolences.
Sorry for your loss. It was great knowing your Mom Clara and the whole family . We had a great childhood growing up on Riverview Ave....lots of good memories. My deepest sympathy to you all. Sincerely, Your across the street neighbor Vicki.
Our family's lived next door to each other for over 50 years and watched are four boys and the 6 of you grow up. We had some great times. There was always something going on at this end of this block. The back yard fence finally fell down and Clara got her crue to put it back up. Painting the fence caused some incidents between the family kids but it got finished and looked great. We have lots of stories to tell we are sorry for your loss and love you all. Please stay in contact.
I am so sorry to hear that Clara has passed away. I worked with Clara for twenty years. She was a great mentor and colleague and most important, a great friend. There was no one better than Clara!
I miss my dear friend. Love Jean
We're sending sincere condolences to you, Tim, Mike, Kathy and Jane. I (Cheryl) always enjoyed visiting with your mother when we saw each other after church at the Cathedral. She delighted in bringing me up to date on you all and I was very interested in the many travels and experiences you all had. She was so proud or each of you! Love to you all!
I worked with Clara many nights on surgical floor of St. Alexius she was a great friend and teacher. she taught everyone who worked with her and a great nurse she will be missed but I'm sure Gad in heaven can use her skills in heaven. Prayers to her family
Heintzman Family: So very sorry to read about Clara's passing this morning. May she Rest In Peace and my sincere sympathies to all of you. ??
condolences and happy memories from childhood from a classmate and good friend Marie Balkowitsch Beckler
Clara was a terrific neighbor and a wonderful friend. In fact the whole family was great. Many great memories on Riverview Ave. Clara ya dun good. I miss you. My thoughts and prayers are with you all.
Many fond memories of visiting your house on Riverview in Bismarck back in the 1960s. Clara was always there with sandwiches, cookies and whatever else we needed. Proud to say we now have a nurse in our family to carry on the noble and courageous work of saving lives and caring for others that Clara did for over 30 years. God's blessings to all of the Heintzman family.
So long, Mom. I will miss our chats. I will miss you.
She was my pal! Mom/ Clara/Claire She will be missed?