Clifford McNulty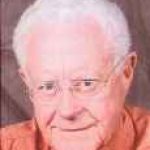 Born in Palm Bay, FL December 25, 1930.
Departed on March 7, 2018 in Palm Bay, Florida
Clifford A. McNulty, 87, of Melbourne, passed away Wednesday March 7, 2018.
Clifford was a native of South Brevard County, a graduate of Melbourne High School and the University of Florida Class of 1956 and a devoted Gator fan. He was a Land Developer and Cattle Rancher and past member of the Florida House of Representatives between 1967 thru 1970.
Survivors include his sons Keith, and David, daughters, Kathy Bradshaw and Kay McNulty, 3 grandchildren, 3 great-grandchildren, and a brother Howard.
A Celebration of his life will be held on Thursday March 15th from 4pm-6pm in the Brownlie – Maxwell Funeral Home. To celebrate his life please wear you Gator Gear.
The family requests that donations in his memory be made to the Alzheimer's Assn.
1 entry.
Much belated condolences. He was to father to my sisters' Terry & Jan's friends Kathy and and Mary Kaye. Signing to be respectful. God bless the McNulty family.