Coy Austin(C.A.) Clark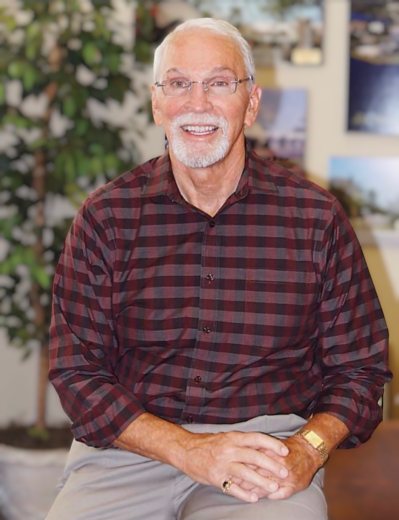 Born October 9, 1941 in Bentonville, Arkansas
Departed August 21, 2023 in Rockledge, Florida
It is with deep sorrow and much love that we mourn the passing of Coy Austin (C.A.) Clark. After a long and courageous battle with Parkinson's disease, Coy passed away peacefully with his loving family by his side on August 21, 2023 at the age of 81.
Coy was born on October 9, 1941 in Bentonville, Arkansas to Gracie Clark and W. Pasco Clark. He grew up in a small farmhouse in rural Arkansas, with his parents and six brothers and sisters. Coy's family may have been lean in resources but they were never lacking in love or commitment to one another. He grew up helping his family on their farm, instilling in him strong family values and work ethic. He learned early the importance of perseverance, hard work and keeping a positive outlook in life.
In high school Coy excelled in many sports. He was the captain of his football team, lettering all four years playing as a full back and the kicker, as well as a stand out track and field athlete and he played on the basketball team.
After graduating high school in 1960, Coy headed to the University of Central Arkansas on a football scholarship where he shined as an all conference defensive end and caption of the football team his senior year. He was also elected the junior class president. He would later be inducted into the UCA Football Hall of Fame in 2017. He graduated from college in 1964 with his B.A. in education and later earned his masters degree in elementary administration from University of Mississippi.
Coy's first teaching position was as a sixth grade teacher and football coach in Little Rock, Arkansas. The following year, he was asked to become the principal of the junior high school, at the age of 24. Coy took great pride in the sense of community that he built in the schools he was a part of. He cared deeply for his students, especially his students who were disadvantaged. Coy developed academic programs to help them build confidence and believe in themselves . He was nationally recognized for his outstanding efforts as an educational administrator. In 1969 he was selected as the Man of the Year by the Arkansas Jaycees for his contributions to innovations in the state's educational system.
During his years in Little Rock, Coy played middle linebacker for the Arkansas Diamonds of the newly formed continental professional football league.
By 1970, Coy's achievements were the subject of articles in educational trade publications and he was recruited by Brevard County school system to be the principal of Robert Louis Stevenson elementary school in Merritt Island, Florida. The allure of sunshine and beaches added more incentive for Coy to accept the position in a new state.
Coy spent two years as the principal at Stevenson Elementary. In the summer of 1973, he decided it was time to embark on a new adventure into real estate. Although his time in education was ending, one incredible twist of fate came from his time as principal there; he met his future wife Tabitha (Tobi), a new kindergarten teacher who had started working there the semester after he left.
Although Tobi had her doubts when Coy first showed up to their blind date dressed in all black looking like Zorro, they both fell deeply in love that night and the rest was history. The couple enjoyed many of their earlier years together on the beach, playing volleyball with friends and routinely walking from their townhome to watch the sunrise together. They were married in December of 1977.
Coy's real estate career began to takeoff by 1976 and in 1977 he launched his own company with a partner in Indialantic, Florida. By the late 1980s, Coy had moved his focus into real estate development and had begun what would be a very successful career, spanning five decades in Brevard county, Florida.
In his role as developer, he discovered a true passion for envisioning beautiful places and then going about creating them . He took great pride in bringing to life useful and attractive developments to the community and always insisted on keeping as much of the natural landscape as possible. He was known for altering entire site plans to accommodate the beautiful live oaks.
He was also fearless when exploring different types of development, and always up for the next challenge. His extensive portfolio included the development of over 25 residential communities, including the notable Baytree Subdivision in Suntree. His contributions extended beyond residential projects, encompassing office buildings and retail centers as well. His colleagues and peers credit him with being a visionary developer who played a pivotal role in shaping the landscape of our region.
Coy was also able to maintain strong relationships with all of his business associates through the years, regardless of the ups and downs in the real estate market. He always kept a level of trust with others that earned him the reputation of being a rare "good on a handshake" type of business man.
Coy experienced great success in his personal life as well. As his real estate company grew, so did his family. He and Tobi welcomed their first child in 1981, a daughter named Hailey Austin and in 1984 they welcomed a son, Brigham Reed. Coy was overjoyed to become a father and placed his role as Daddy above all others in his life. He reveled in his children's growth and successes and was always there for them with unconditional love and acceptance. Throughout their childhood, you would find him coaching their little league teams, cheering them on at recitals and dragging along the world's largest camcorder to capture it all on film.
No matter how busy his life became, Coy always remained deeply connected to his family in Arkansas. His endless love for his parents, brothers, sisters and extended family was evident and he would always anxiously await his next trip to the family farm to be with all of them. And yet, it was not only his family that he placed as a priority but his wife's family as well. He loved her family as his own and had very close bonds with them.
Coy also had an infatuation with all things cars. It started very early in life, working at the gas station while in high school and it carried on through all of his life. He took great pride in washing and waxing his prized "Grand-daddy Benz" and he never dared take it out if there was even the slightest chance of rain. He passed this love on to his grandsons who will always have fond memories of riding in Papa Coy's race car.
He felt great joy in watching his grandsons grow and treasured being a part of their lives. In 2020, his youngest grandson, his namesake, Coy Austin Jaziri was born. The two Coy Austin's shared a very special bond together. Even in the end, on Coy's hardest days, little Austin could bring the biggest, most beautiful smile to his Papa Coy's face.
Ultimately what anchored everything in Coy's life, both personally and professionally was how he lived with such integrity. He had an unwavering strength of character and believed that you should always do unto others as you would have them do unto to you. His family always felt great pride encountering people who had met him; they almost universally would praise him in similar ways; as kind, generous and a true gentleman. His genuine interest and caring nature for others was felt by everyone he encountered.
He will be deeply missed and lovingly remembered by his wife of nearly 46 years, Tabitha (Tobi) Clark and his two children Brigham Clark of Indialantic and Hailey Jaziri and husband, Chadley of Viera; grandchildren Coy Austin Jaziri, Cameron Jaziri and Carter Jaziri of Viera; two brothers Jerry Clark and wife, Becky of Bentonville, Bobby Clark of Rogers and sister Louise, Kildow, and husband Robert of Bentonville; and numerous other family members and friends.
He is preceded in death by his parents; and his three brothers Thomas Clark, Willard Clark and ML Clark and his sister Louetta Clark.
A memorial service to celebrate Coy's life will be held on September 7, 2023, at 3:30 pm at His Place Ministries, 1824 S. Harbor City Boulevard, Melbourne, Florida 32901. Parking will be available west of the church in the city lot. Additional parking is available in the the Brownlie-Maxwell parking area.
5 entries.
My heart thoughts and prayers go out to Tobia, Hailey and Brigham. It was an honor and privilege to work with Coy he was a man of honor. His words to me when he hired me were "tell them (referring to the associates) to do the deal, and to do it right it is my name on the door. He was a dear friend.
Coy will be missed. Genuinely, one of the nicest human beings I've met. Sincere condolences from my family to the Clark family. May God bless and keep you all in his loving arms.
Tobi - I was so saddened to hear about the loss of your life long partner, Coy. I will always remember the two of you as my first Florida neighbors, and I often think of you when a pass through McMechen when summering in WV. My deepest sympathies to you, Hailey, and Brigham
My sincerest condolences to Coy's family & many friends! He was a good man! Heaven gained a special angel.
La Boutique de Bridal & Tuxedos send our deepest condolence to the Clark Family, Employees and Friends, he was the best landlord we have ever had for our business, we rented from him a space in the Metro West shopping center, we for sure missed him when it was sold. He was a great man and so nice to us, he was a great businessman!