Daniel Charles Mestayer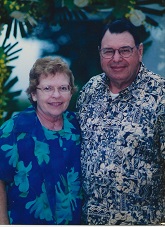 Born on February 28, 1936 in New Iberia, Louisiana
Departed on November 9, 2021 in Palm Bay, Florida
Daniel Charles Mestayer, Jr. was a renaissance man. A beloved husband and father, Dan was born on February 28, 1936 in New Iberia, Louisiana. He grew-up hunting and fishing (a life-long passion) in the bayous and gulf waters of southwest Louisiana, Cajun Country! He played trombone in the city band and was active in sports and his local community. After being awarded a degree in Physics, Dad joined the Navy served two tours aboard the carrier USS Independence as a Squadron Electronics Officer, including during the Cuban Missile Crisis.
He met his life's love, Judee O'Donnell, when he and Mom's brother, a naval aviator, became friends. Uncle Bob brought home Dan for a visit and the rest is history; they married on June 29, 1963. Dad was recruited to Radiation, Inc. by a classmate from college and they moved to the frontier that was Melbourne, Florida. While Dan built satellite ground stations, Judee built a home and together they raised three children – Daniel, III, Robert and Lisa with lots of love, tennis playing and time spent fishing and diving in the ocean, Indian River Lagoon and St. Johns River basin. In the early 1970s, Dad was awarded a Master's Degree in Computer Science from FIT. They were very active in their parish communities first at Our Lady of Lourdes and then as Founding Members of Immaculate Conception Catholic Church.
Dan lost Judee three years ago and has been heartbroken since. He will be greatly missed by his children and eight grandchildren – Matthew, Sarah, Robert, Triston, Nicholas, Leah, Ethan and Dakota and his extended family. We would like to thank the staff and volunteers at the William Childs Hospice House for making our last days together as peaceful as possible.
A Memorial Service will be held at Immaculate Conception Catholic Church 3870 South Highway A-1-A, Melbourne Beach, Florida beginning at 11 am on Saturday, November 20, 2021 with a reception in the hall to follow.

6 entries.
Dearest Danny, Bobby, and Lisa, I am just finding out this morning that your dear father has joyfully reunited with your Mom! It is so wonderful for them and so sad for the three of you and your families. Your parents together as a couple and as individuals were the salt of the earth, and I am very blest to have had them as my friends and mentors. I am a phone call away if you need anything. The Toomey's have my number! I love you all, Patricia Daly Dezman
I met Dan when we both worked @ Harris Corp. from the early 70's through the mid 80s. Dan was not only a good friend, good engineer but also a mentor. We were best Buds. We hunted, Scuba Dived, and socialized with our families for many years. I will never forget the delicious Cajun Coubion Dan used to make for our dinners. He loved to cook, and it showed. During this period Danny & Bobby were teenagers and my children were pre-school. I would ask Dan for advice on raising them, since he was doing such a good job with his, all he would ever say was "You've got to do it your way. No one can tell you how to raise your own kids". What good advice, but no help at the time. What happy experiences we had together. I will miss him greatly. Ray Glenn, Harwood, Md.
Many fond childhood memories together. Glad you are finally with your sweetheart. Rest in peace my dear God Father!
Love to all my Mestayer cousins. I wish I could be there to hug you all. Driving to FL to visit is a wonderful memory of our happy family.
My father Buzz and his sister Judee "Toots"met at the farm or in Florida often as we were growing up and Big Dan was a great uncle that took us for a ride in his dune buggy ! He set a great example and his booming basso voice was perfectly suited for doing the readings at church!
We will miss Dan so much! I would still be lost at Disney w/o Dan spotting me. He could pick bluegrass songs as well as playing the trombone. God Bless Uncle Dan and Aunt Judy - his deep basso voice was perfect for his lecter reading at mass and Judy handed out communion.