Daniel Miles Sheridan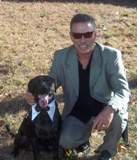 Born in Arlington Heights, IL on January 13, 1962.
Departed in Yankeetown, Florida on April 27, 2018
Daniel Miles Sheridan, 56, a devoted son and loving brother died Friday April 27th, 2018, with his family by his side. Dan was born in Arlington Heights, Illinois. He came to Brevard County in 1989 from Tampa and recently lived in Yankeetown, Florida.
He was a long time salesman at Southeastern Honda in Palm Bay and Lane Pontiac-Buick in Melbourne. He also owned his own roofing business. Dan was a very spiritual person and enjoyed spending time with his family, friends and his dog, Sarge. His sense of humor will be missed most of all.
He is survived by his sister Grace Gaittens of Melbourne; brothers Greg Sheridan (Alton) of Daytona Beach, James Sheridan of Franklin, Tennessee and John Sheridan-Giese (Jason) of Carver, Minnesota; many nieces and nephews; dear friends, Sherry Fowler, Mr. and Mrs. James "Hollie" Young, Deborah Whitley all of Yankeetown and the love of his life, his dog Sarge.
Calling hours will be held from 4pm to 8pm on Wed. May 2nd, at the Brownlie-Maxwell Funeral Home with services at 6pm. A memorial service will also be held at the Hospice House of Citrus County 3350 W Audubon Park Path, Lecanto, FL 34461 at a later date.
Mr. Sheridan will have a heavenly reunion with his parents; James, who passed away in 2003 and Judith who passed away in 2010.
Anyone planning expressions of sympathy is asked to consider Hospice House of Citrus County using the address above.