Dean W. Fiedler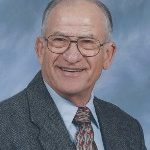 Born on September 22, 1931 in Freeburg, Illinois
Departed in Palm Bay, Florida on February 8, 2020
Dean W. Fiedler, 88, of Freeburg, IL, born September 22, 1931, in Freeburg, IL, died Saturday, February 8, 2020, at Life Care Center of Palm Bay, FL.
Mr. Fiedler was an Operating Engineer and farmer before he retired. He was a member of St. Matthew's United Methodist Church in Belleville, IL. Dean was a U.S. Army veteran and a lifetime member of the American Legion Locklar-Smith Post 550 as well as Freeburg's Masonic Lodge. Dean was active in the Local 520 Operating Engineers Retirees. He loved to water ski and one of his great pleasures was teaching others how to ski.
Preceding him in death are his first wife, Gladys Mae Fiedler; a grandson, Michael Brown; his parents, William and Ellen, nee Lortz, Fiedler; and a brother, Lloyd Fiedler.
Surviving are three daughters, Rebecca L. Fiedler (Cem Kaner) of Guelph, Ontario, Canada, Katherine E. Fiedler (Mike Brown) of Monkton, MD, and Carol D. (Mark) Kilpatrick of Ponte Vedra Beach, FL; and two grandchildren, Gabrielle Brown and Christopher Kilpatrick.
Memorials may be made to the Alzheimer's Association or to the American Cancer Society. Condolences may be expressed to the family online at www.rennerfh.com.
Burial with military honors will be held at Elmwood Cemetery, Freeburg, IL.