Della Marie Sorrell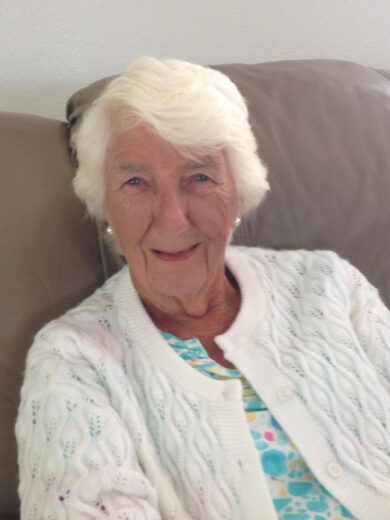 Born on September 12, 1930 in Franklin, Ohio
Departed May 24, 2023 in Palm Bay, Florida
A longtime Melbourne Beach, Florida resident, Della Marie Sorrell passed away Wednesday, May 24, 2023. She was 92.
A celebration of life service is slated for 2 p.m. on Tuesday, May 30, 2023, at Brownlie-Maxwell Funeral Home in Melbourne, Florida. A graveside service will follow at the Florida Memorial Gardens Cemetery in Rockledge, Florida.
Della was born in Franklin, Ohio. Soon after graduating from high school, she met and married Stanton Sorrell. The two were married for more than 50 years until Stanton's death in 2002. While living in Middletown, Ohio, Della and Stanton had three children (Richard, Connie and Tanya). Della and Stanton also owned and operated several Middletown-area businesses until they moved to Florida in the late-1960s.
Della and Stanton eventually settled in Brevard County – also referred to as Florida's Space Coast at the height of NASA's Apollo program where the couple owned and operated the Melbourne Beach Mobile Park for more than three decades until retiring in the late-1990s.
Besides being a loving wife and mother, Della was also a very proud grandparent. It was here in her life where family as well as friends affectionally referred to Della as "Grandma." At the time of her passing, Della had seven grandchildren, 11 great-grandchildren and two great-great grandchildren.
In addition to her husband, Della is preceded in death by her parents, Daniel and Blanch Woehler; a sister, Eula May Perry; and a great-granddaughter, Ashlyn Kay Mendez.
Survivors include her sister Linda Rose Sorrell; children Richard Sorrell (Mildred), Connie Dowrey (Bob); Tanya Boring (Mike); grandchildren Susan Parks (John); Tammy Mussler (Ed), Tom Sorrell (Trisha), Johnathan Boring (Robin), Kaylyn Driver (Jesse), Matthew Boring (Jordan), Kara Beth Boring; great-grandchildren Tessa Stiene (Andrew), A.J. Mendez Mussler (Hadley), Maddie Parks, Tucker Parks, Chloe Parks, Trey Mussler, Trent Sorrell, Addie Mussler, Trevor Sorrell, Claire Boring and great-great grandchildren Ivy and Asa Mendez Mussler.
6 entries.
Grandma was very special to both of us. Our thoughts and prayers are with her and the people who loved her beautiful soul.
Della always had a smile on her face and was very proud of her family. ❤️
Della was a sweet lady. Our sympathies to all of you.
Heaven has gained another Angel. Della was loved by all who knew her! Love to all her precious family! Someday we will all meet again l'
Sending prayers to all the family! Glad that we crossed paths with Grandma Della!