Dennis J. Reardon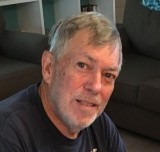 Born in Washington, DC December 14, 1937.
Departed in Palm Bay, Florida on September 7, 2018
Dennis J. Reardon left our world on Friday, September 7, 2018. Dennis was originally from the Washington DC area but spent a large part of his life in New England.
Survivors include his wife of 25 years Pauline, his daughters Susan, Angela, Melissa and Robyn and sons Donald, Rick and Daniel grandchildren Christopher, Grace, Mareena, Chantelle, Dakota, Tucker, Cameron, Coby and Benjamin and great granddaughters Victoria and Dalila. He is predeceased by a son Dennis. Thank you Dad for putting together our blended family.
Calling hours will be will be held Thursday September 13th from Noon to 1pm with a service to follow at 1pm in the Brownlie – Maxwell Funeral Chapel.
The family requests that donations in his memory be made to the Brevard Humane Society www.brevardhumanesociety.org/donate/
5 entries.
I am saddened to hear of Dennis  passing. I didn't know him well but enough to see his love for his family and his playful sense of humor.
Dear Dennis, Ill never know why the Dear Lord had to take you, I keep telling myself cause an angel He'd make you. Smiling above us with a smile so bright, Like the way you would smile at redskins in tights. We'll remember your laugh and kindness my friend, until the day we'll all see you again. Watch over us please like you did all these years, Our hearts speak to you in a message of tears. A family man you'll always be, and an awesome Uncle always to me. Love you- Eric Cable
We had so many wonderful times and you will be missed. Love, Don & Lori
Dear Susan and Ed and family, Please know that our thoughts and prayers are with you during this time of great sorrow on the loss of your beloved father. Know that he will always remain alive in your hearts and memories forever. Dorry and Steve
Sorry we lost the best first base coach ever. Dennis will be greatly missed. Our thoughts and prayers are with your family at this time. Love Clay and Ali