Donald Dale Moore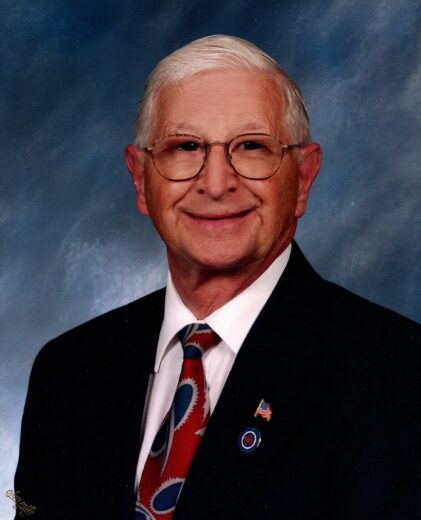 Born on August 6, 1932 in Westerville, Ohio
Departed December 11, 2022, in Melbourne, Florida
We sadly announce that Donald Dale Moore passed away on December 11, 2022 at his home in Melbourne, Florida with his loving family by his side.
Donald Dale Moore was born on August 6, 1932 in Westerville, Ohio to Ursula Disbennett Moore and Haskell Moore of Columbus, Ohio. Donald was the first born of four children and is survived by his siblings Beverly Pickering, Susan Kitchell and Martha Jane Martin.
He is survived by his beloved wife of more than 66 years Nanci Lee Moore; their three children Cindy (Terry) Ogletree of Palm Bay, Florida, Cheryl (Bryan) Browning of Eustis, Florida and Stephen (Denise) Moore of Melbourne, Florida; grandchildren Lisa Augustyn, Dustin Moore, Kyle Wenzel and Eric Moore and eight great grandchildren. He is preceded in death by his infant son Michael Dale Moore.
Before enlisting in the United States Navy where he served in the Korean War from 1952 – 1956, Donald worked at Kroger Bakery in Columbus, Ohio; followed by an honorable and prestigious career as a communications officer for the Central Intelligence Agency, where he retired after 25 years. During his time in the CIA, Donald and Nanci served in the U.S. as well as overseas in Nicosia, Cyprus, Manilla, Philippines and Melbourne, Australia among many other foreign countries.
After retiring, Donald and Nanci moved to central Florida, where Donald worked in the security department for Harris Corporation for many years. After 18 years in central Florida, Don and Nanci moved to NW Arkansas, where they enjoyed the Ozark Mountains. While in Arkansas, Don attended and was active in their church First Baptist of Rogers. They moved back to central Florida after 14 years to be close to their children.
Donald was a devoted husband who adored his wife with all of his heart. His greatest joy was his family and je enjoyed spending time with them, as well as travelling, gardening, bicycling, square dancing and watching football. He was an active church member of Central Baptist Church of Melbourne, then later First Baptist Church of Melbourne. Everyone who had the honor to know Donald loved his sense of humor, his loyalty, integrity and gentle demeanor.
5 entries.
To Nanci and Family. I just learned of Don's Passing by a letter sent out from HQ. Don worked with my late Father, Frealin Qualls at NPIC and on many TDY's. My career followed in my Dad's footsteps and I remember the stories of the 1960's and later about their remarkable work. Best Regards, Betsy
I'm so very sorry for the loss of your Grandpa, Lisa. I know you and your family, especially his beloved wife, will miss him tremendously. Please accept my deepest condolences. Prayers and hugs for your family.
A Celebration of Life Service for my dear father-in-law will be held on Tuesday, December 20, 2022 at 11am at First Baptist Church of Melbourne 3301 Dairy Road. A burial service will be held at Cape Canaveral National Cemetary on Wednesday, December 21, 2022 at 11:30am.
I only met Don a few times and enjoyed being with the family at those times. My prayer is for comfort and peace for the family.Cheryl is my daughter in law and I love her and I know she will miss her dad.
My dear big Brother was a wonderful brother, I will miss him so much. We enjoyed a wonderful sibling trip to California a few years ago and we have enjoyed our time in Florida together. Be with God and Jesus my brother