Donald P. Greene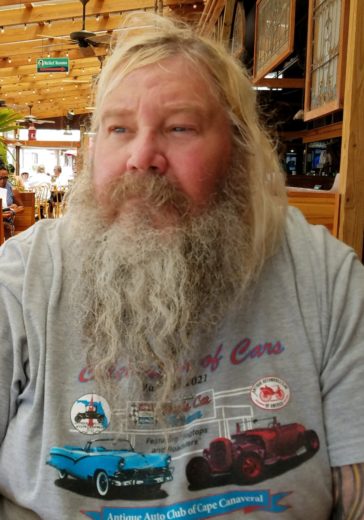 Born on November 28, 1958 in Providence, Rhode Island
Departed on September 23, 2021 in West Melbourne, Florida
Donald P. Greene, a dedicated Draftsman for Ryan Iron Works of Massachusetts and current resident of West Melbourne Florida, passed away unexpectedly on Thursday, September 23, 2021 at the age of 62.
Donnie, a former resident of Pawtucket, Rhode Island, is survived by his two sons Jeff Greene of Texas and Kyle Greene and his wife Alexa of Palm Bay, Florida. He is also survived by his brother Shawn Greene and his wife Doreen of Indialantic, Florida and their son Josh Greene and his fiancé Ashley Hester of North Smithfield, Rhode Island. In addition, he leaves behind the mother of his two sons, Dolly Greene and two beloved cousins, Vanessa Adamonis and Jason Adamonis along with Jason's daughter Morgan. Donnie was predeceased by his parents, Donald Francis and Teresa (Adamonis) Greene.
Donnie was a passionate race car fan and an avid collector of race car memorabilia. He dearly loved his family and his pet cat Frankie with all his heart. He will be greatly missed by all who knew him.
A small service for family and friends will be held at Brownlie-Maxwell Funeral Home on Friday, October 1, 2021 at 5pm with family and friends celebrating his life together until 7pm.
In lieu of flowers the family asks that donations be made to "Halo Rescue No-Kill Shelter", 710 Jackson Street, Sebastian, Florida, 32958 to honor Donnie's love of animals.
3 entries.
Jeffery and Kyle, I have known Don for over 30 years when we started working together at Ryan Iron. He was a true gentle giant and always the professional when working on our projects. I consider Don my friend both at work and outside of work and will truly miss talking with him and catching up on events in our lives. I am glad I got the chance to see him last month when he came up to Mass. as it had been a few years since I last saw him. My condolences on his unexpected passing. —Steve.
Jeffery and Kyle, It was a pleasure working with Don. He was like family and will be missed by all. On a personal level I will always remember him for his calm demeanor. Whenever, things would get a little tense he would not get upset but just respond "it is what it is" and move on. I think at times I should follow his advice. It was a privilege to work with your dad. He was truly a great guy. Larry Kelley Ryan Iron Works
Kyle, Jeff, Shawn, Doreen & Josh, Please accept our deepest condolences on Donnies passing. We were all sad and shocked to hear of your loss. Donnie was a kind, gentle , artistic person. He showed his deep love of his sons by the wonder care he gave them growing up. It's to his credit that they are the well educated gentlemen they are today. We are praying for everyone.